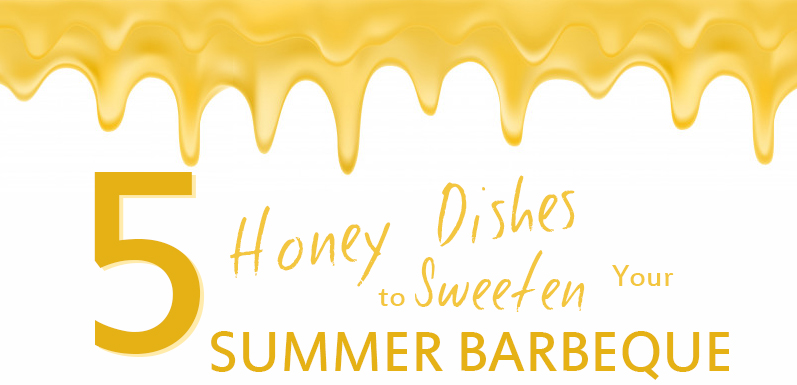 5 Honey Dishes to Sweeten Your Summer Barbeque
By now, we all know how great honey is. But not only can it sweeten your drinks, it's also a great addition to any backyard barbeque this summer. Try these honey-inspired recipes that are all the buzz this summer.
Roasted Carrots with honey
Looking for a sweet way to get your kids to eat healthily? Try simmering some whole carrots in a beautiful organic honey. Get some carrots that are similar in size to promote even cooking. For kid-friendly portions, try roasting baby carrots with honey for a delightful finger food.
Salad, salad, and more salad
Chop some candied walnuts and add a healthy dose of fresh fruit to your springy lettuce salad. Berry salads burst with flavor and are more than welcomed on a hot summer day. Simply drizzle some honey dressing over the salad for a healthy glaze instead of using fatty ranches or mustards.
Honey-glazed meats
Whether you prefer ribs, steaks, or chicken, adding a sweet element to your usually savory main dish is a welcome surprise on a hot day. Try experimenting with different flavors with flavored honey straws and organic royal jellies with vinegar bases or barbeque sauces. Though it tastes sweet, honey technically qualifies as an acid, making it an easy-to-add feature in most dishes, whether they're sweet or savory.
Flan
Flan is a type of custard that is bound to improve any summer cookout. Instead of the usual ice cream, opt for this cool custard with raw organic honey as a healthier option that doesn't weigh you down in the summer sun. Pair it with fresh fruits to make for the perfect citrus-inspired summer treat.
Honey bourbon cocktails
As the day winds down and evening is on the horizon, the adults at your summer barbeque may want to unwind themselves: offer a delicious cocktail nuanced with honey bourbon flavors. Bourbon is surprisingly fun to mix with a slew of summer cocktails and the honey will give it a sweet tang you could only dream about. Mix it with ciders or other tonics for a refreshing, unique backyard drink. Don't be afraid to add more organic honey for those with a sweet tooth!
Your backyard barbeque can only benefit from the addition of delicious honey. If you're struggling to find where to buy honeystix, try your local farmers market: local beekeepers often sell cheap, bulk honey perfect for any occasion. When the average American eats over one pound of honey per year, you might just need to buy in bulk.