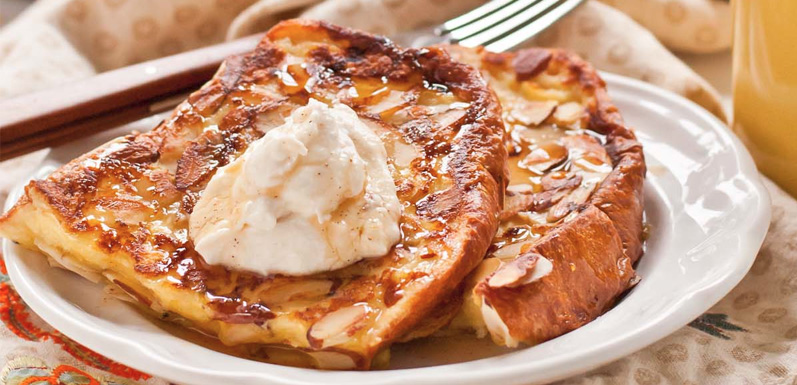 Almond Crusted French Toast with Whipped Ricotta and Honey
Looking for an amazing French toast recipe for a lazy Saturday morning? This recipe uses orange blossom honey and sliced almonds to make a sweet and savory breakfast for the whole family.
INGREDIENTS
For the filling:
¾ Cup ricotta cheese
¼ Cup cream cheese, softened
Zest of 1 orange
For the syrup:
¾ Cup GloryBee California Orange Raw Honey
Juice of ½ orange
½ tsp Aunt Patty's Organic Korintji Cinnamon
For the french toast:
½ Cup sliced almonds
3 eggs
¾ Cup milk
1 tsp Aunt Patty's Organic Pure Vanilla Extract
1 pinch salt
8 thick slices of challah or brioche bread
3 Tbsp Aunt Patty's Organic Virgin Coconut Oil
DIRECTIONS
Preheat the oven to 350° F. In the bowl of an electric mixer fitted with the whisk attachment, whip the ricotta and cream cheese until smooth. Stir in orange zest.
In another small bowl, whisk the honey, orange juice and cinnamon. Add three tablespoons of that mixture to the ricotta and stir. Reserve the rest for the topping.
In a shallow wide bowl, whisk together the eggs, milk, vanilla and salt.
Spread the almonds out on a plate. Heat a skillet over medium heat.
Melt half the coconut oil in the skillet. Dip half the bread slices in the egg mixture, letting it soak in for about five seconds on each side. Place both sides of the bread in the almonds, pressing them into the side. Put the bread in the melted coconut oil and grill until browned, about 2-3 minutes on each side.
Put the finished bread on an ungreased baking sheet. Melt the rest of the coconut oil in the skillet and repeat with remaining bread slices.
Bake the grilled bread in the oven for 8-10 minutes or until cooked through. If desired, heat the honey mixture on the stove top or in the microwave. Serve the french toast slices with a dollop of ricotta and the honey.