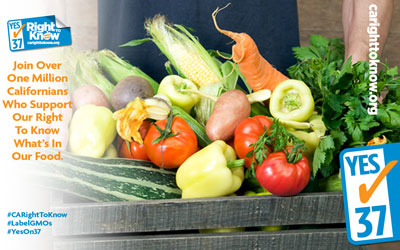 California Landmark Initiative to Label GMO Food
GloryBee & Aunt Patty's brands are proud to donate $10,000 to Yes on Prop 37. As a family owned company, we value the importance of healthy living and believe it is a God given right to know what is in our food and where it comes from. Labeling GMO products enables us all, as consumers, to make healthier educated choices for ourselves and our families. GMO's also negatively impact the health, well-being and survival of the honey bee. This is a serious concern as honey bees are indicators of environmental health and sustainability.
We stand behind and support Prop 37, Food Democracy Now and the California Right To Know campaigns as they are in alignment with our company values.
We ask that you join us and tell your friends and family in California to vote YES on prop 37.
Follow us on Facebook for up to date information on Prop 37:
www.Facebook.com/GloryBeeFoods
What is Proposition 37?
According to the California Election voter guide, "GENETICALLY ENGINEERED FOODS. LABELING. INITIATIVE STATUTE. Requires labeling of food sold to consumers made from plants or animals with genetic material changed in specified ways. Prohibits marketing such food, or other processed food, as "natural." Provides exemptions."
Proposition 37 is a November ballot measure in California that will help consumers make informed choices about the food they eat. Written with broad input from food groups, industry, science, legal and health experts Prop. 37 (The California Right to Know Genetically Engineered Food Act) requires clear labels letting consumers know if foods are genetically modified.
The California Right to Know Genetically Engineered Food Act is simple: The initiative would simply require food sold in retail outlets to be labeled if it is produced through genetic engineering, and would not allow these products to be labeled as "natural." Prop 37 gives companies 18 months to change their labels, and allows for the GMO disclosure to appear wherever they choose on packaging.
Who Supports Prop 37?
Prop 37 was initiated by a grassroots organizing effort with the help of thousands of volunteers across the state, the Right to Know campaign gathered nearly one million signatures from California voters within a 10 week period. More than 2,000 organizations – including media outlets, food manufacturers and retailers, leading consumer, environmental, farming, health, faith-based, political and labor groups – have since endorsed Yes on 37.
www.carighttoknow.org/endorsements
We Have a Right to Know What's in Our Food:
Fifty countries around the world (closer to 61)—representing more than 40% of the world's population---already require GMO labeling, including all of Europe, Japan, India and China. Polls show that more than 90% of Americans want to know if their food is genetically engineered. We are free to choose what we want to eat and feed our children. The free market is supposed to provide consumers with accurate information about products so we can make informed choices. http://justlabelit.org/wp-content/uploads/2012/01/Mellman-Survey-Results...
Prop. 37 Doesn't Ban the Sale of Any Foods:
Prop 37 would not ban any foods. It merely requires that GMO-containing foods be labeled with the phrase "partially produced with genetic engineering" anywhere on the front or back of packages.
Donate Now