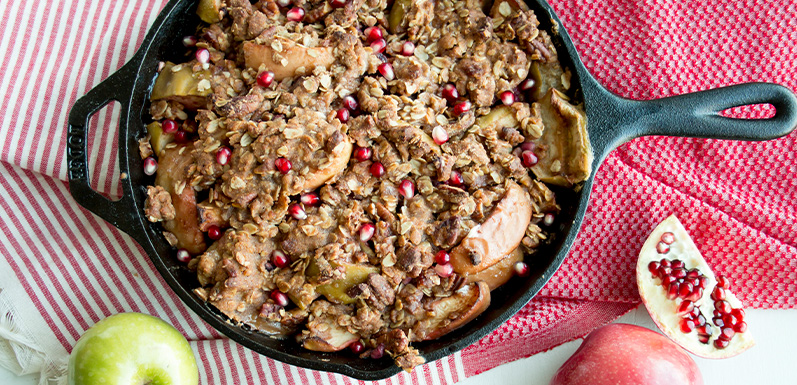 Cast Iron Apple Pomegranate Crisp
Leaves are changing color, kids are back in school, and fall aromas like pumpkin spice and apple pie are in the air. Here's a modern update on the classic apple crisp—adding pomegranate airls! Pomegranate seeds are a great source of fiber, the juice is rich in Vitamin C, potassium, iron and polyphenol antioxidants. Serve hot with Blackberry Honey-Vanilla Ice Cream. Makes 6 servings
INGREDIENTS
½ Cup plus 2 Tbsp whole wheat flour, divided
½ Cup old-fashioned rolled oats
½ Cup pecans (chopped)
1 ½ tsp cinnamon, divided
½ tsp fine sea salt
¾ Cup GloryBee® Raw Honey, divided
3 Tbsp Aunt Patty's® Organic Virgin Coconut Oil (melted)
3 Pounds Granny Smith or Honeycrisp apples (cored and cut into ½" slices)
1 Cup fresh or frozen pomegranate arils (seeds)
DIRECTIONS
Preheat oven to 375 ℉.
In a medium bowl, combine ½ cup flour, oats, pecans, 1 teaspoon cinnamon, and salt. Stir in ½ cup honey and coconut oil to combine.
In a large bowl, toss apples and pomegranate arils with 2 tablespoons flour, ½ teaspoon cinnamon, and ¼ cup honey. Transfer to a 9 or 10" cast iron skillet, sprinkle crisp topping over apples, and bake until bubbly and well-browned, 45 to 55 minutes.