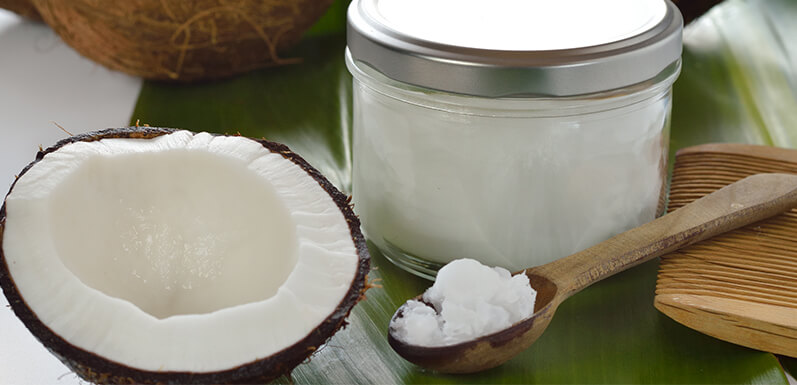 Coconut Oil – Not Just A Delicious Food Ingredient
Some folks look at a jar of extra virgin coconut oil on the grocery store shelf and simply see a food ingredient. Not us; we see magic in a jar! Don't get us wrong; we love to cook and bake with coconut oil as much as the next person (if you've never swapped out the butter for coconut oil in a brownie recipe, do yourself a favor!), but there is SO MUCH MORE you can do with it!
Ever heard of oil pulling? It's said to dissolve and remove bad bacteria in the mouth and reduce plaque and inflammation of the gums. Coconut oil is ideal for this practice—simply put a tablespoon of oil in your mouth, swish it around for 15-20 minutes (you can work up to this if your muscles get tired), then spit out the oil and brush your teeth.
Did you know you can cleanse your face with coconut oil? It's true! Just melt a little coconut oil between your (clean) hands, apply to face and massage in for 1 minute using circular strokes. Then squeeze out a washcloth that's been rinsed in very warm water, and apply it to your face for 30 seconds. Wipe off the oil with the wash cloth. (We recommend trying this on a small part of your face a few times first, to ensure you are not allergic.)
Coconut oil also makes a great face and body moisturizer! Use it like you would any lotion—just remember that a little goes a long way. It's best on damp skin just out of the shower.
We kid you not—once, we were at the biggest natural foods show on this side of the Rockies, sampling our extra virgin organic coconut oil. Instead of tasting it, one of our enthusiastic customers rubbed it between the palms of his hands and applied it to his hair! We had to admit—his long, curly hair looked very healthy and shiny!
Coconut oil is perfect to use in natural deodorant recipes like this one, due to its antibacterial properties.
You can also use this wonderful oil to polish wood furniture, remove eye makeup, soothe chapped lips, improve damaged cuticles, and more!
We're really just scratching the surface with these ideas. What do you use coconut oil for?