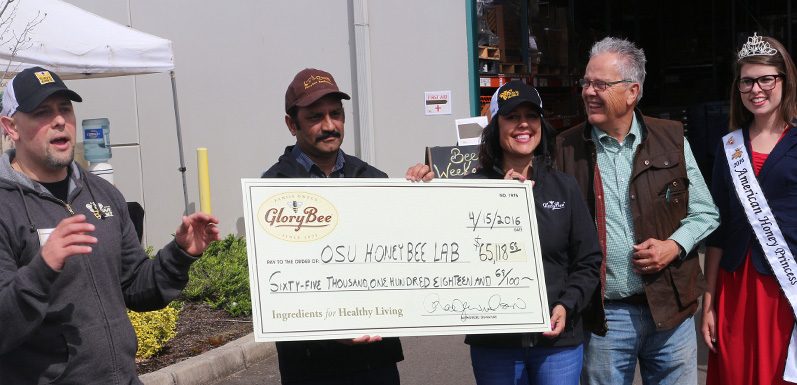 GloryBee Donates $65,118.68 to OSU Honey Bee Lab
GloryBee launched Save the Bee in 2012 as a part of our social initiative program to directly support organizations dedicated to saving the honey bee and combating colony collapse issues. We have been generating an increasing amount of awareness over these past four years and donating 100% of the funds raised to Oregon State University's Honey Bee Lab.
We were delighted to have OSU's very own Dr. Ramesh Sagili, Assistant Professor of Apiculture, attend our annual Bee Weekend event for the second year in a row to formally accept our donation check. The $65,118.68 check presented this year was a combination of all funds raised for Save the Bee throughout 2015, including a percentage of our own GloryBee retail and beekeeping sales as well as partner promotions and donations. This year's check was nearly 50% more than last year's $44,783 check, and we hope to keep this upward trend going in years to come!
Our top contributing partners to Save the Bee in 2015 include Coconut Bliss, Attune Foods, Bakery Nouveau, Town & Country, and Umpqua Bank. Among other donors and supporters throughout the local community and beyond, we thank you all for your continued support of our Save the Bee program.