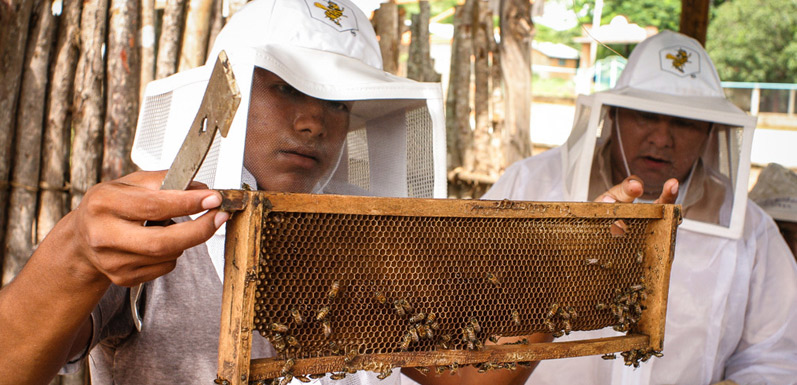 GloryBee Non-GMO, Fair Trade Honey- Doing the Right Thing Matters!
We believe business can be a force for good and we work to infuse that ethos in everything we do. Even our honey is produced with the intention of being good for people and our planet.
Honey with a Mission!
We wanted to improve the livelihoods of our suppliers while also providing safe habitats for bees. We began working with non-profits, such as Food 4 Farmers, to teach beekeeping to low-income families in Mexico. The result is a delicious, high-quality Non-GMO Project Verified, Fair Trade honey that directly benefits the indigenous beekeepers by supporting community improvement projects.
Why Non-GMO Honey? Because you have a right to know what you're eating.
GloryBee is proud to be part of the growing consumer movement for transparency. We believe everyone has the right to know what's in their food. That's why we support legislation that mandates mandatory GMO labeling.  Other reasons to support GMO labeling include:
Some GMOs are resistant to toxic chemicals. The effects of human consumption of these unnatural GMO products is still unknown. People have a right to know what they are consuming, even if the health-effects are still being researched.
GMO products do not naturally occur in nature; they are man-made. The long-term effects GMO crops and livestock are having on our environment are still being determined. We believe people have the right to know if the products they are buying are naturally occurring products or genetically modified products.
Why Fair Trade Honey? Because people are more important than profits.
Family farmers in the Global South often face low-wages and poor working conditions as a result of unfair trade policies and corporate practices. At GloryBee, we believe that conscience consumers, when properly informed, can create positive change and promote economic justice with their food purchases. Certified Fair Trade Products ensure:
People are treated fairly with dignity
The environment is respected and nourished
Business is enhanced by cooperation, not competition
Healthy Living is founded in natural, earth-made products that are good for you and our planet. Join the movement to use business as a force for good. Together we can make a difference!