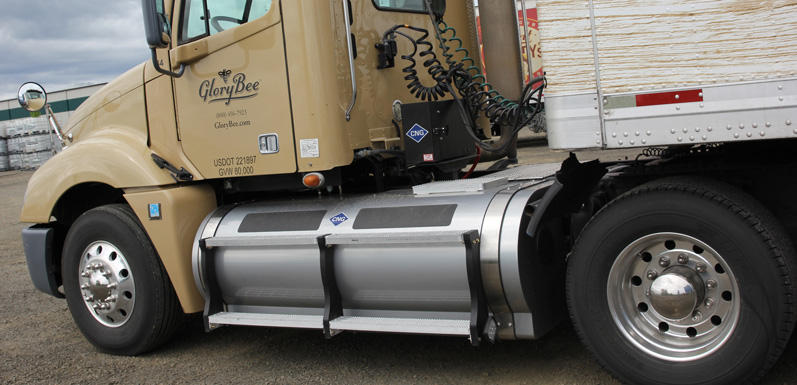 The Future of Fuel: CNG Dual Fuel Technology
Did you know that 90% of a vehicle's carbon footprint is in the fuel it uses to power its engine?
GloryBee partnered with Truck 'N Travel this spring to convert two trucks in our fleet to include an emerging Compressed Natural Gas (CNG) dual fuel technology that burns cleaner and reduces our overall emissions. Our trucks were the first in Oregon to undergo this conversion and as such, they have been traveling to trade shows and expos in the Pacific Northwest to show off their shiny new dual fuel tanks. With this conversion, we aim to improve air quality as well as the cleanliness of our engines and thus extend the longevity of our trucks.
These dual fuel trucks operate with a separate CNG system that displaces up to 50% of the diesel used, but with the ability to run on full diesel if needed. Unlike gasoline and diesel fuel, natural gas is an abundant resource with a more dependable supply and lower prices to drive the developing market. Filling stations are popping up along the I-5 and other major highways to support the infrastructure for this technology and will help fellow CNG trucks save on fueling costs.
Our drivers have reported no loss of performance or power in these newly converted trucks and have even noticed a quieter ride. As an early adapter of this green and sustainable technology, we are motivated to continue down this path of alternative and renewable energy sourcing and encourage others to do the same.