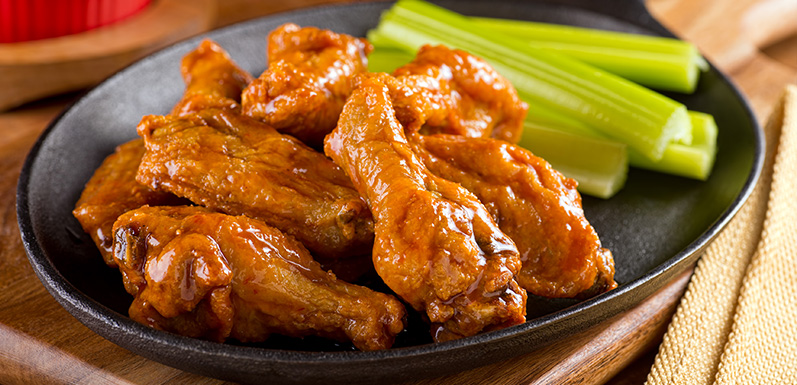 Baked Tamarind-Honey Chicken Wings
Get ready for the big game with these sweet and tangy chicken wings. The unique flavors and thoughtfully selected ingredients will bring your friends and family together, regardless of who you're rooting for.
INGREDIENTS
2 lbs chicken wings
1 Tbsp chili garlic paste
2 Tbsp soy sauce
2 Tbsp Aunt Patty's® Tamarind Paste
2 Tbsp ginger, minced
½ Cup Aunt Patty's® Apple Cider Vinegar
1 Tbsp GloryBee® Non-GMO Project Verified Clover Blossom Honey
1 Tbsp black pepper
2 Tbsp lemon juice
1 Cup flour
1 Cup corn starch
2 Tbsp olive oil
DIRECTIONS
Once chicken wings are thawed and cut, wash wings in cold water and pat dry. Place wings into a shallow container.
Combine soy sauce, honey, tamarind paste, chili garlic paste, ginger, vinegar, lemon juice, flour, and corn starch to create a marinade.
Pour mixture over the chicken wings and marinate in the refrigerator for 1-2 hours.
Preheat oven to 350° F.
Use olive oil to grease baking sheet. Place marinated chicken wings on baking sheet, and bake in preheated oven for 30 minutes.