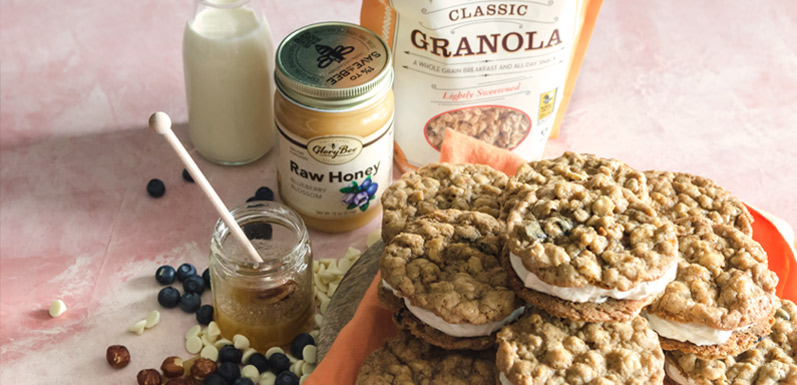 Blueberry Honey Ice Cream Sandwiches
Ice cream sandwiches are a wonderful treat! And there's nothing better than using all natural ingredients as well. With the Blueberry Honey Cream Sandwiches – you can make the cookies by themselves, or can make them into ice cream sandwiches by adding the creamy filling and freezing. Either way, your friends and family will appreciate the tasty goodies! Enjoy!
Time
Prep Time:            30 minutes
Bake Time:           15 minutes
Rest Time:             90 minutes
Yield: 12 cookie sandwiches
Cookies
1 cup Butter, soft
1 cup Brown Sugar
1/2 cup Granulated Sugar
2 Eggs
1 tsp Vanilla Extract
1-1/2 cups Whole Wheat Pastry Flour
1 tsp Salt
3/4 tsp Baking Soda
1-3/4 cups Classic Granola
1/2 cup White Chocolate Chips
1/2 cup chopped toasted Hazelnuts
1/4 cup Dried Blueberries
Honey Cream
8 oz Cream Cheese, very soft
1/2 cup GloryBee Blueberry Blossom Honey
Zest of one Lemon
2 tsp Lemon Juice
1/3 cup fresh Blueberries
1 cup Cream, whipped
Cookies
Preheat oven to 325°F; line two baking sheets with parchment paper.
In two medium bowls, combine flour, baking soda, and salt in one, and granola, white chocolate chips, hazelnuts, and dried blueberries in the second; set aside.
In a large bowl, beat butter and sugars until combined but not aerated or fluffy.  Add eggs, and vanilla and mix until fully incorporated.  Add flour mixture and mix well, then add granola mixture until evenly distributed.
Portion onto the prepared baking sheets, 2 Tbsp per cookie.  Bake until set, about 15 minutes.  Let cool completely, about 30 minutes, before filling.
Cream
Whip soft cream cheese, honey, lemon zest, and lemon juice until evenly incorporated and free of lumps.  Gently stir in fresh blueberries.
In a clean bowl, whip cream to medium peaks then gently fold cream into the cream cheese mixture.  Portion ¼ cup of filling onto half of the cookies and top with a second cookie.  Freeze until set, about 1 hour.  Serve frozen.