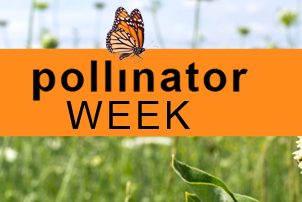 Food Company Sweetens Pollinator Week for Customers and Honey Bees
Eugene, Ore. – In support of National Pollinator Week, family-owned natural foods company, GloryBee®, is partnering with retailers throughout Oregon and Washington to engage in honey promotions highlighting the importance of honey bees as they relate to our food supply. A percentage of all honey sales, bulk and retail, goes directly towards GloryBee's "Save the Bee" initiative.
This year's National Pollinator Week runs June 15 - 21, and is an international celebration for the valuable ecosystem services provided by our naturally pollinating animals. For GloryBee®, bees are of special interest because as much as 1/3 of the fruits and nuts we eat is pollinated by bees. It is with this in mind that in 2012, GloryBee® launched its social program, Save the Bee, as a way to bring awareness to the issues surrounding Colony Collapse Disorder (CCD) and bring much needed funds to the research of this growing problem. In only its third year of existence, GloryBee® and Save the Bee was able to donate over $44,000 to the Oregon State University Bee Lab, who is doing tremendous work researching the issues that surround our honey bees.
"Saving honey bees who directly impact the pollination of our food supply is not something any of us should take lightly. We need everyone's help to bring awareness to this issue as we work to direct much needed funding towards the research of CCD. The research that OSU is doing connects farmers, beekeepers, and consumers together as we all work together Save the Bee," states RaeJean Wilson, GloryBee® Senior Executive Vice President.
During 2015 National Pollinator Week, there are 15 retail outlets committed to promoting GloryBee® honey and donating a percentage of the profits to Save the Bee. "2015 is shaping up to be a successful year for Save the Bee, and we are excited about the future as we work to save one of the most important and fascinating insects of our ecosystem," said Alan Turanski, GloryBee® President.
For stores who are partnering with GloryBee® and participating in the "Save the Bee" Pollinator Promotion, see below:
Participating stores in Washington:
• Shop n Kart - Chehalis, WA
• Country Village Nutrition - Longview, WA
• Central Co-Op - Seattle, WA
• Chuck's Produce - Vancouver, WA-Mill Plain Blvd
• Chuck's Produce Bulk - Vancouver, WA-NE 117 St
• Minglement - Vashon, WA
Participating stores in Oregon:
• Grower's Outlet - Portland, OR
• Norman's Farmers Market - Salem, OR
• Farmer's Market - Grants Pass, OR
• Coos Head Food Co-Op - North Bend, OR
• Food 4 Less Naturals - Medford, OR
• Sherm's - Klamath Falls, OR
• Shop n Kart - Ashland, OR
• Bailey's Health Food Center - North Bend, OR
• Market of Choice - Eugene, Corvallis & Portland
To learn more about GloryBee's Save the Bee Program, go to: www.GloryBee.com/savethebee. If you want to know how you can partner with us, call our Sales Department at: 1-800-456-7923.