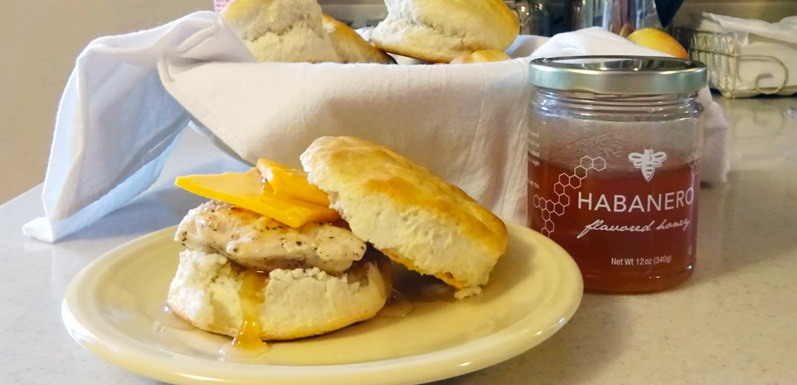 Habanero Honey Chicken Biscuit Sliders
Believe us when we say these sliders taste as good as they look. Simple to prepare ahead of the big game, and easy to pack for a tailgating win. Enjoy!
Ingredients
10-12 chicken tenderloins – seasoned with salt & pepper, grilled.
12 cheddar cheese slices
1 cup of mayonnaise
2 canned chipotle chilies in adobo sauce, minced to a paste (about 1 tablespoon), plus 1/2 teaspoon adobo sauce
Bread and butter pickle slices
12 biscuits (we like this Aunt Patty's Recipe but use what you like!)
Directions
Grill chicken thighs – cut in half when done to fit on the biscuit.
In a small bowl, mix chopped chipotle chilies, adobo sauce and mayonnaise. Spread chipotle mayonnaise on split biscuits. Drop a dollop of habanero honey on the bottom biscuit half. Top each biscuit with chicken, slice of cheddar cheese, pickle chips. Serve immediately to your guests!