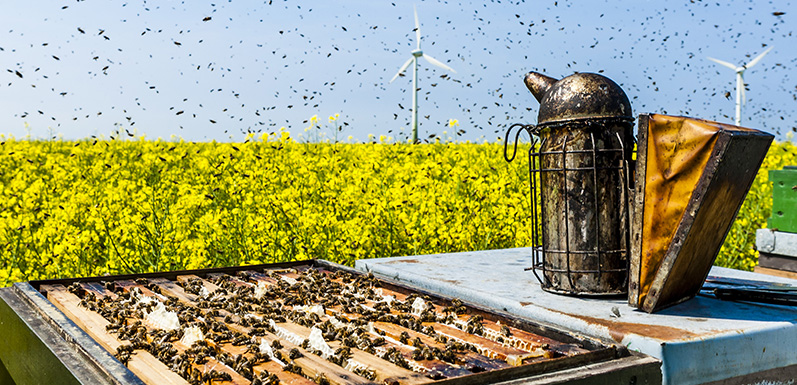 Here Are Some Do's And Don'ts For Beekeeping Beginners
Americans consume about 1.3 pounds of honey per person per year. If you're interested in keeping bees and want to be able to harvest raw honey in your own backyard, it may be easier than you think. In addition to some basic beekeeping equipment, all you really need is a bit of knowledge and dedication. Here are some beekeeping do's and don'ts to keep in mind during your beekeeping endeavors.
DO: Purchase new beekeeping equipment
Many new beekeepers use the DIY method and try to build their own structures. While this may save money, it's not recommended by most experts, as beekeeping materials are relatively affordable to begin with. Mainstreampreppers.com says, "Your apiary will run about $100 and your suit will cost around $100. Plan on the bees costing between $100 to $200. Other equipment will probably bring the total price to less than $500. You don't want to build the equipment yet because you need to have a complete understanding how everything works. Only after you get experience with the equipment will you have enough knowledge to build a proper apiary."
DON'T: Forget to check zoning laws
Even though bees don't cause much of a disturbance, you need to make sure your town allows beekeeping and raising bees on your property. You should also ensure that you have plenty of room for the bees; experts say you can generally have two hives per one tenth of an acre.
DO: Plenty of research
Make sure to do as much research as you can before you commit to beekeeping. Our beekeeping 101 blog is a great resource as well as your local beekeeping club. You need to know how the bees work, what they eat, and how to properly maintain the hives.
DON'T: Buy an un-inspected hive
If your state requires it, be sure that the state department of agriculture has thoroughly inspected your hives before taking it home. You could be exposing your bees and the bees around you to contagious diseases.
Ultimately, these are just a few do's and don'ts to keep in mind during your beekeeping pursuits. For more information about bulk honey for sale, contact GloryBee.