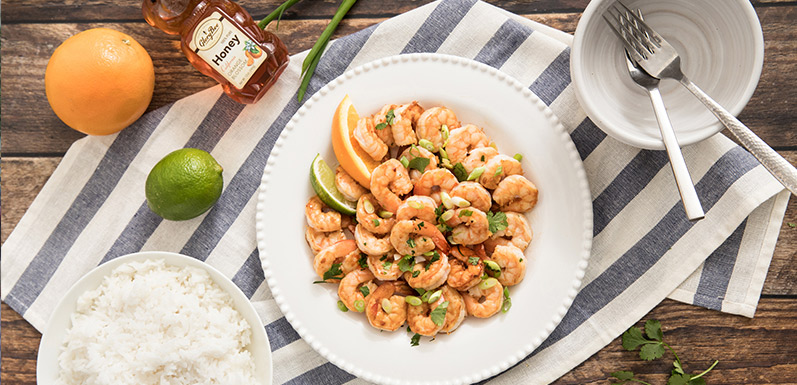 Honey Garlic Citrus Shrimp
Honey Citrus Garlic Shrimp – garlicky, sweet, sticky skillet shrimp with fresh lime and pure honey. This recipe is so good and easy, takes less than 15 minutes to make. Top off a salad or rice bowl with the shrimp, this comfort food dinner is sure to please.
Ingredients
3 tablespoons lime juice
3 tablespoons orange juice
3 garlic cloves, minced
1 teaspoon fine sea salt
1¼ pounds medium to large shrimp
Chopped cilantro
Chopped green onion
Directions
1. In a medium bowl mix together honey, lime juice, orange juice, garlic, and salt until honey is dissolved. Toss shrimp in mixture to coat. If desired, cover and refrigerate up to 24 hours.
2. In a large skillet heat coconut oil over medium-high. When oil is hot, add shrimp and cook, stirring occasionally, until shrimp are cooked through, about 2 minutes.
3. To serve, top with cilantro and green onion.