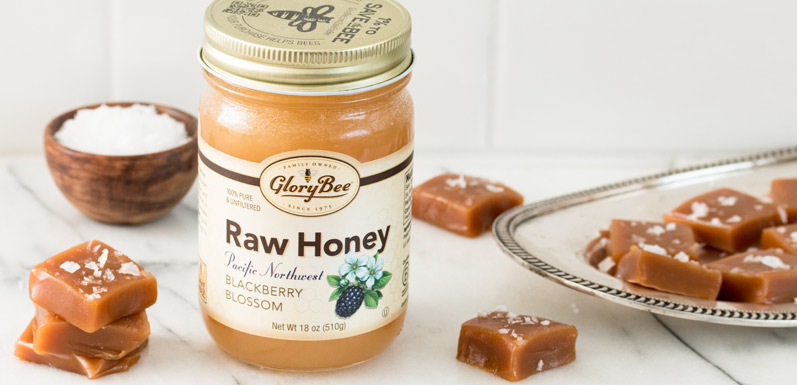 Honey Salted Caramels
If you enjoy making homemade sweets, we've got a fun recipe for you - Honey Salted Caramels. These also make a perfect treat to give as a gift. Wrap each in small wax paper squares, put a bunch in a gift box and you're set! Salty sweet goodness ready to go!
Ingredients
1 stick salted butter
1 cup Glory BeeⓇ Raw Honey
1 cup heavy cream
½ cup brown sugar
1 teaspoon vanilla
Flaky sea salt
Directions
1. Spray an 8" square baking dish with cooking spray, line with parchment, and spray the parchment.
2. In a large saucepan combine butter, honey, cream, and sugar. Bring to a simmer over medium-high heat, stirring to dissolve sugar. Reduce heat to medium and simmer, whisking frequently and checking the temperature with a candy or instant-read thermometer, until the temperature reaches 250℉. Remove from heat and whisk in vanilla until smooth.
3. Pour caramel into baking dish, place in refrigerator, and let set 10 minutes. Sprinkle with salt, return to refrigerator, and let set until firm, at least 4 hours. Use parchment to transfer caramel to a cutting board, and cut into small pieces. Wrap each piece in parchment or wax paper. Store refrigerated up to 6 weeks.