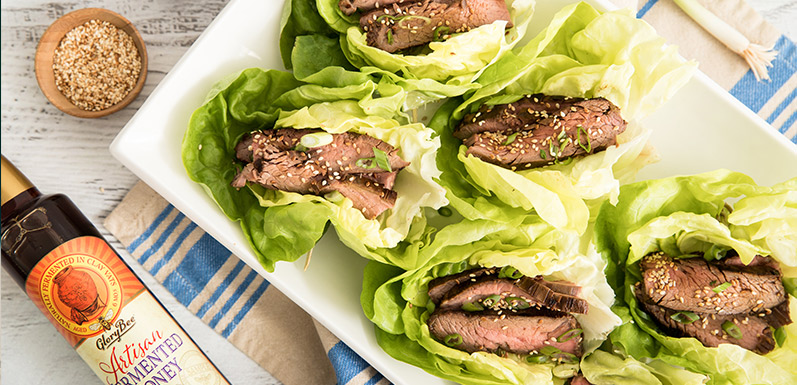 Korean-Style Honey Flank Steak
This will be the absolute best flank steak you've ever had and you'll never use another recipe again! This recipe is fast, simple and family approved. And since you're only using a sheet pan for cooking, there's little to clean up! Perfect for a quick week night meal or for entertaining a group. Enjoy!
Ingredients
⅓ cup soy sauce
1 tablespoon toasted sesame oil
5 garlic cloves, minced
2" piece fresh ginger, peeled and minced
1 teaspoon red pepper flakes
1 pound flank steak
2 tablespoons preferred vegetable oil
1 head butter lettuce
Toasted sesame seeds
Directions
1. In a large zip-top bag combine soy sauce, honey, sesame oil, garlic, ginger, and pepper
flakes. Place steak in bag and turn to coat with marinade. Seal bag, place in a bowl, and
refrigerate at least 4 hours or up to overnight.
2. Preheat oven to 350℉.
3. In a large, heavy skillet (preferably cast iron), heat oil over medium-high. When oil just
starts to smoke, add steak. Cook, turning once, until deeply browned on both sides,
about 3 minutes per side. Transfer to a baking sheet and place in oven to finish cooking
to desired degree of doneness (127℉ for medium-rare, 140℉ for medium).
4. Let steak rest 5 minutes before slicing. Thinly slice and serve with lettuce leaves, topped
with sesame seeds and green onion.