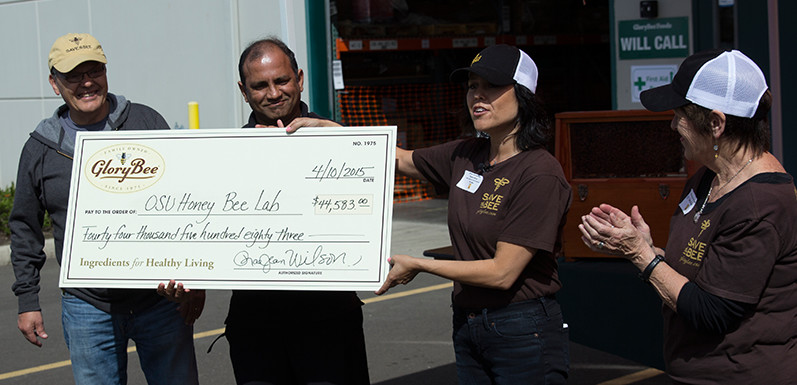 Oregon State's Bee Research Gets Sweet Boost From Local Company
Eugene, Ore. – On April 10, at GloryBee's Annual Bee Weekend, Alan Turanski, GloryBee President, and RaeJean Wilson, Senior Executive Vice President, presented a $44,538 check to the Oregon State University Honey Bee Lab. The funds will be used towards its research on bee health, nutrition, and pollination from 2014 funds raised as part of GloryBee's Save the Bee Program.
Save the Bee retail and bulk revenue of GloryBee® Honey, retail beekeeping supplies, customer donations, and community fundraisers benefit OSU research and the Oregon State Beekeeping Association's Master Beekeeping Program. "Saving honey bees and impacting the pollination of our food supply is not something we can do ourselves. In order to gain a stronger foothold, the OSU Honey Bee lab needs more financial support. Their research connects farmers, beekeepers and the community to be more successful," states RaeJean Wilson, GloryBee Senior Executive Vice President.
For honey bee labs like Oregon State's, funding is invaluable to continue to expand its work on bee nutrition, health and pollination. According to Dr. Sagili, funds need to reach $300,000 annually in order for his team to be successful each year, working with commercial and backyard beekeepers, producers, farmers and local communities. GloryBee is dedicated to increasing its contributions each year with continued Pacific Northwest partnerships.
To learn more about GloryBee's Save the Bee Program, go to: www.GloryBee.com/SaveTheBee. If you want to know how you can partner with us, call our Sales Department at: 1-800-456-7923.