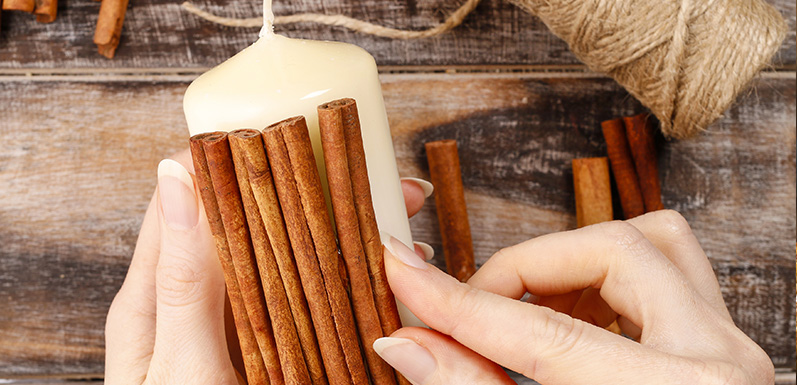 Vanilla & Cinnamon Stick Candle
Here's a great way to take your average vanilla scented candle to the next level and engage your friends and family in a fun DIY craft that everyone can enjoy. As the cinnamon sticks warm from the heat of the candle, a welcoming aroma spreads through the air to make your home feel comfy and cozy - perfect for these cold, winter months.
Supplies:
Instructions:
Once you have gathered all of your supplies and your glue gun is heated and loaded, carefully apply one strip of glue along the flat side of a cinnamon stick.
Gently press the glue-side of the stick onto the side of the candle for about 5-10 seconds to ensure it stays in place.
Repeat this process as you adhere the sticks one-by-one next to each other around the candle until they have completely surrounded the pillar.
If desired, apply the glue directly to the candle and gently press the cinnamon stick to the glue instead.
Once the cinnamon sticks have all been applied, wrap a strand of twine around the sticks several times and tie in a bow.
Light the candle and enjoy the warmth that fills the air. NEVER burn candle unattended.