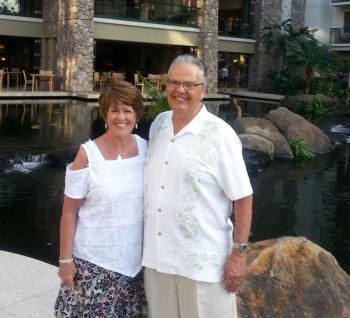 A Sweet Holiday
Over the years, Dick and I have been blessed to be able to meet with some of our customers as we travel. This past January, we traveled to Maui. I will admit if we are in an area outside of the Pacific Northwest and I know we distribute our products to that region, I like to look for my products on the shelves of those natural foods stores.
On one of our first days of vacation, I found myself doing this exactly. I entered a local natural foods store, introduced myself to the store staff and took some time to share a little about GloryBee and Aunt Patty's story. I value each and every opportunity to share my story and the passion behind our products and through our time together, we learned more about their customers, making a real genuine connection and began discussing partnering on events and demos in the future.
After a few days of hiking and snorkeling, we ventured a trip to a tropical plantation on the island. As Dick spoke with our guide, he mentioned bees. Our guide shared how her daughter had bees and that she herself wanted to learn more about bees. As an experienced beekeeper, this was a wonderful opportunity for Dick to share his passion about honey bees and the conversation opened up to speaking about cooking with the Aunt Patty's products. With each new meeting, we continue to build valuable relationships with our customers.
STAY TUNED FOR FUTURE AUNT PATTY DEMOS & EVENTS!