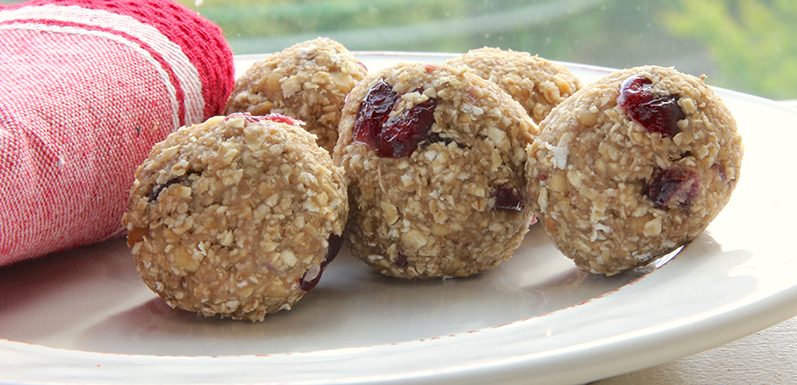 Aunt Patty's Breakfast Bites
Healthy, on-the-go breakfasts make it easy to start your day. Aunt Patty's Breakfast Bites are a cinch to prepare, with no baking required! You can adjust the recipe to your taste - add chocolate chips, different dried fruits, seeds or nuts. Enjoy!
INGREDIENTS
3 Ripe Bananas
½ Cup Aunt Patty's Organic Almond Butter or creamy peanut butter
½ Cup dried cranberries (or other dried fruit, if larger, rough chop)
½ Cup roasted peanuts (or almonds or hazelnuts)
2 teaspoons kosher salt
¼ Cup GloryBee Raw Organic Clover Blossom Honey
4 Cups of quick cooking oats (add more if necessary until it clumps together in a biscuit-dough style of dryness)
DIRECTIONS
Beat ripe bananas in a stand mixer fitted with a paddle attachment until almost liquid.
Add salt, honey, and then almond or peanut butter and run until well mixed.
Add peanuts and dried cranberries, mix well.
Add oatmeal in stages until mixture clumps together. Now is a good time to stop and make a tester – resulting ball should be firm and stable.
Scoop with a small batter scoop into appropriate sizes, roll between slightly dampened hands until desired shape, let rest overnight (this allows the oatmeal to absorb the moisture from the bananas and not be dry).