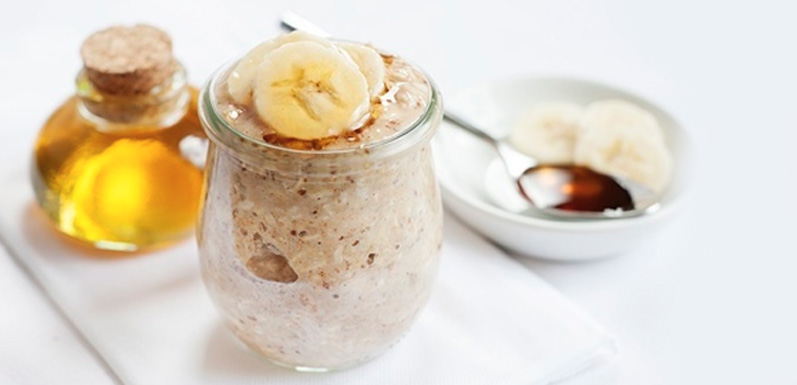 Banana Almond Overnight Oats
Your morning breakfast routine is about to get a little bit easier. Overnight oats are prepared in the evening, and ready to go in the morning - it's just that easy! These creamy, hearty oats are naturally sweet and and will keep you satisfied all morning.
Ingredients
4 tsp GloryBee Organic Raw Clover Blossom Honey
2 tsp ground flax
2 Cups old fashioned oats
3 Cups milk
4 Tbsp Aunt Patty's Organic Almond Butter
2 bananas, divided
Directions
On a flat surface, place 4 bowls or glass jars with . Fill each with 1/2 tsp ground flax, 1/2 Cup oats and 1 Tbsp almond butter.
Peel and mash one banana. Divide mashed banana into the four oat mixtures.
Pour 3/4 Cup of milk over the banana and oat mixture and with a spoon, combine ingredients.
Refrigerate for 8 hours or overnight. When ready to eat, serve cold or warm up for 30 seconds in the microwave.
Slice remaining banana, top each oat mixture with banana slices and drizzle with 1 tsp of honey over the top. Combine and enjoy.
Make It Your Own: Try using chia seeds for an extra bit of crunch or add blueberries, strawberries or your other favorite fruits before eating.