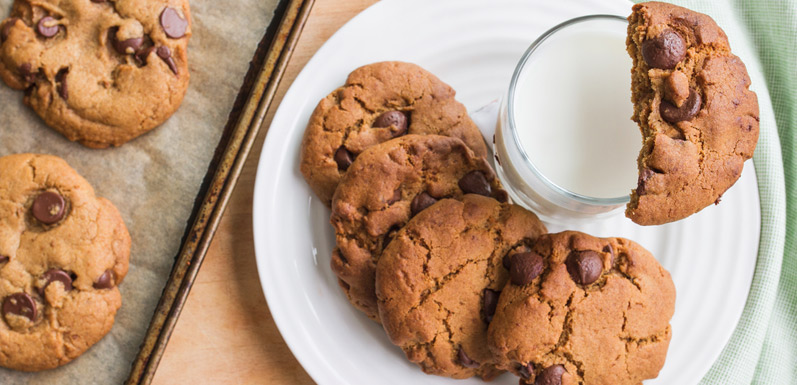 Best Ever Chocolate Chip Cookies
We don't know anyone who doesn't love a batch of cookies made just for them. In our all natural chocolate chip cookie recipe we sweeten the cookies with coconut sugar which provides an additional caramel flavor profile to the treats. Make your loved ones a batch - you'll put a smile on their faces and love in their heart. Enjoy!
INGREDIENTS
¾ Cup Aunt Patty's Organic Coconut Sugar
½ Cup Organic Brown Sugar
½ Cup Aunt Patty's Organic Virgin Coconut Oil, in solid to semi-solid form
1 large egg
1 ½ tsp Aunt Patty's Pure Vanilla Extract
1 Tbsp water, can add additional tsp if not moist enough
1/8 tsp Sea Salt
1 tsp Aunt Patty's Baking Soda
2 Cups Unbleached Flour
1 Cup Aunt Patty's Organic Dark Chocolate Chips
DIRECTIONS
1. Preheat oven to 375° F.
2. Combine sugars and room temperature coconut oil in a medium sized bowl. Add egg, vanilla and water and cream the mixture, whisking or blending with a hand mixer on medium speed for about 5 minutes.
3. Sift in flour, salt and baking soda slowly to creamed mixture, blend until all dry ingredients are well coated. Fold in chocolate chips.
4. Place dough on baking sheet in heaping spoonfuls, gently pressing down on each.
5. Bake for 8-10 minutes, until edges are golden brown. Remove from oven and let stand for 3 minutes before removing from baking sheet.