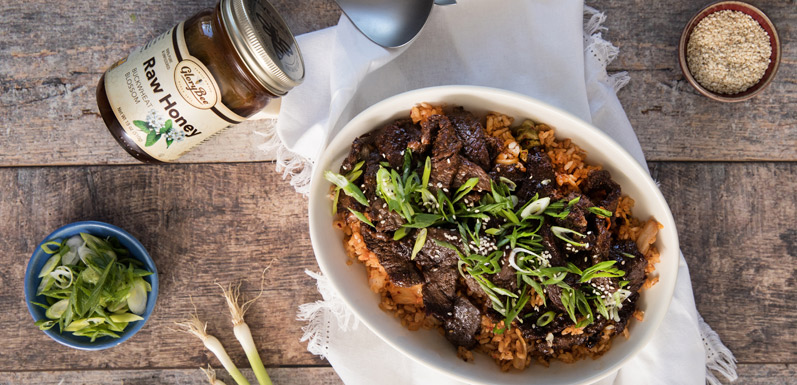 Caramelized Korean Beef with Kimchi Fried Rice
Buckwheat Honey is our central ingredient for this recipe. While some may question our choice of honey on this recipe, we picked it because Buckwheat Honey is known for its depth of flavor. You can use Buckwheat Honey for all sorts of savory recipes and we think this is a great fit! Enjoy!
Ingredients
1 pound beef sirloin, very thinly sliced against the grain
2 tablespoons soy sauce
4 garlic cloves, minced
1 tablespoon toasted sesame oil
½ teaspoon black pepper
1 cup short-grain white rice
2 tablespoons preferred vegetable oil, divided
¾ cup cabbage kimchi, with juice
3 green onions, thinly sliced
1 tablespoon sesame seeds
Directions
1. In a large bowl, toss beef with soy sauce, garlic, honey, sesame oil, and pepper. Cover and refrigerate at least 30 minutes or up to 2 hours.
2. In a medium saucepan combine rice with 1¼ cups water. Bring to a boil, then reduce heat to simmer, cover, and cook until tender, about 15 minutes. Scoop rice onto a baking sheet and spread out to cool slightly.
3. In a large heavy skillet heat 1 tablespoon oil over medium-high. Add beef to skillet and cook, stirring frequently, until well-browned and cooked through, about 5 minutes. Transfer to a serving plate.
4. In same skillet heat remaining 1 tablespoon oil. Add rice and kimchi and cook, stirring, until heated through and starting to brown slightly, about 5 minutes.
5. Serve beef on top of rice and sprinkle with green onion and sesame seeds.