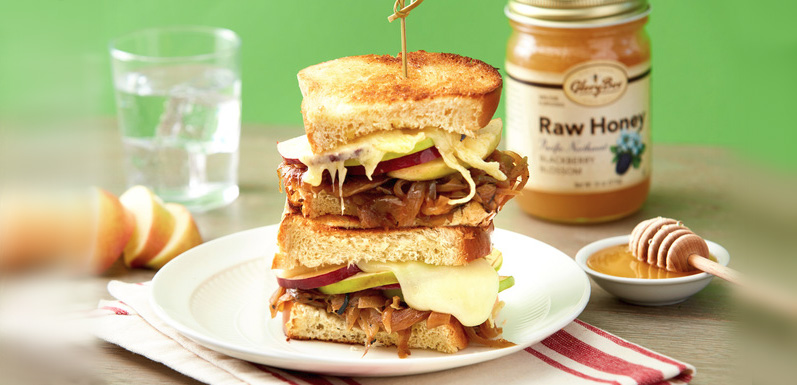 Caramelized Onion and Apple Grilled Cheese
Don't we all love a grilled cheese sandwich once in a while? There are many versions to choose from, but the Caramelized Onion and Apple Grilled Cheese is the bees-knees. "Make it your own" by adding slices of organic bacon or switch up the cheese to a brie, or even using our Habanero Honey for a sweet spicy kick. Enjoy!
Ingredients
3 tablespoons butter, softened, divided
2 large yellow onions, thinly sliced
½ teaspoon fine sea salt
4 ounces sharp white cheddar, grated
½ honeycrisp apple, cored and thinly sliced
4 thick slices brioche or challah
Directions
In a large skillet, melt 2 tablespoons butter over medium heat. Add onions and cook, stirring occasionally, for 10 minutes. Add salt and honey. Continue to cook, stirring occasionally, until well-browned and soft, about 20 minutes more. If onions stick or start to burn, add a tablespoon of water and stir. Transfer onions to a bowl and wipe out skillet.
Divide cheese and apple slices between 2 slices of the bread. Top with onions as desired and remaining slices of bread.
Place skillet back over medium heat and add ½ tablespoon butter. Cook 1 sandwich, turning once, until golden brown on both sides, about 5 minutes per side. Repeat with remaining ½ tablespoon butter and sandwich. To serve, cut sandwiches in half and drizzle with more honey, if desired.