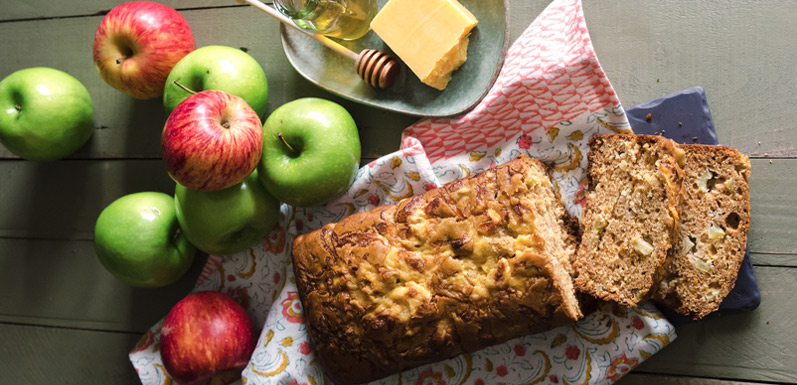 Cheddar Apple Bread
If you love fresh bread served alongside your meals, quick breads are your best friend. In one hour time (and some change) you can prepare, bake and enjoy fresh bread on your table. Since quick breads do not require yeast, there is no kneading or proofing required – easily cutting your preparation time in half.
You can also upgrade your standard lunch sandwiches with this speedy and easy Cheddar Apple Bread. Simply slice and toast the bread, top with a skim of cream cheese, slices of local organic apple, and honey baked ham.
By Sarah House for Bob's Red Mill Natural Foods
Time
Prep Time: 20 minutes
Bake Time:  40 – 50 minutes
Rest Time: 30 minutes
Yield: one 9x5-inch loaf
Ingredients
2 cups Organic Whole Wheat Pastry Flour
1 tsp Baking Powder
1/2 tsp Baking Soda
1/2 tsp Salt
2 Eggs
1/2 cup Canola Oil or other mild-flavored oil
1/2 cup GloryBee Organic Clover Blossom Honey
1/4 cup Milk
1-1/2 cups chopped Apple (Granny Smith, Fuji, or Braeburn)
1 cup shredded Sharp Cheddar Cheese, divided
Directions
Preheat oven to 350°F; oil a 9x5-inch loaf pan.
In a medium bowl, combine flour, baking powder, baking soda, and salt; set aside.
In a large bowl, whisk together eggs, oil, honey, and milk.  Add dry ingredients and mix well.  Fold in chopped apple and 3/4 cup of shredded cheese.
Scoop batter into prepared loaf pan and spread evenly.  Sprinkle the top with the remaining shredded cheese.
Bake until a toothpick inserted in the center comes out clean, 40 – 50 minutes.  Cover the top of the loaf with tin foil after 30 minutes of baking if the top begins to brown too much.