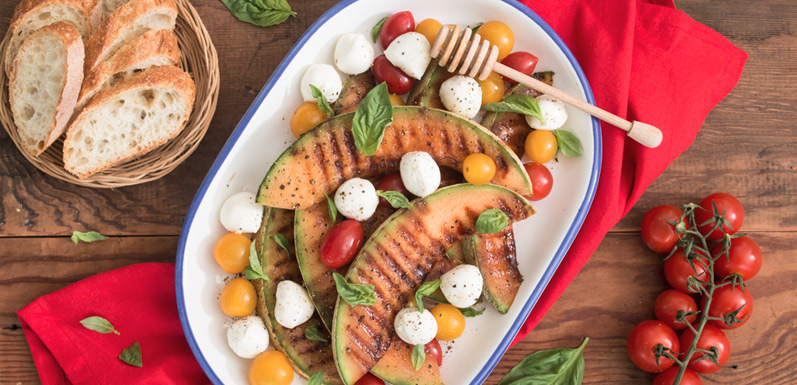 Grilled Cantaloupe Caprese
Scouring your local farmers market is a great way to find new ingredients and surprising recipes to share. After one of our trips, we found a way to make a new spin on the standard caprese salad. By adding grilled cantaloupe along with our spicy Habanero Honey to fresh tomatoes and basil a whole new flavor profile to the dinner table. The recipe will soon be a family favorite. Enjoy!
Ingredients
1 medium cantaloupe, halved, seeded, and cut into wedges
3 tablespoons olive oil, divided
1 cup multi-colored cherry tomatoes, halved
½ cup fresh basil leaves, torn
8 ounces fresh mozzarella, cut into small pieces, or small mozzarella balls (bocconcini)
Flaky sea salt and black pepper
Directions
1.    Prepare a hot grill fire and brush cantaloupe with 1 tablespoon oil. Place cantaloupe on grill and brush with honey. When browned, flip the wedges and brush on the other side with honey. When browned, remove to a serving plate and brush with any remaining honey.
2.    Arrange tomatoes, basil, and mozzarella on the plate and drizzle with 2 tablespoons olive oil. Sprinkle with salt and pepper.