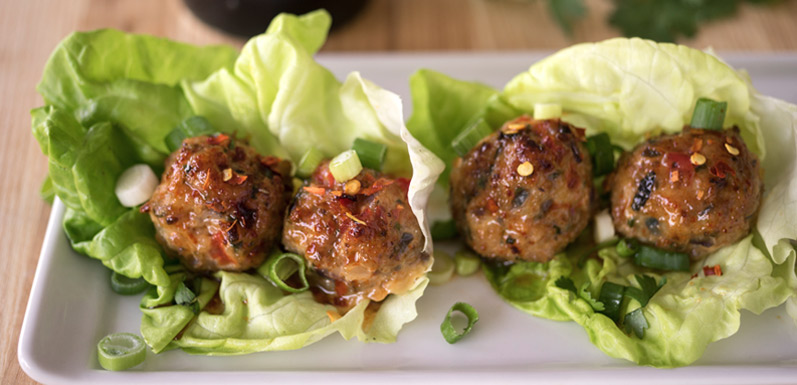 Habanero Honey Chicken Meatballs
Consider this recipe a lighter take on your standard meatballs. Bypass the ground beef and use ground chicken or turkey. Don't worry - no skimping on taste here! We use our Habanero Honey to impart a sweet, spicy flavor. You can make it your own by adding diced chilies or shredded vegetables like zucchini or carrots.  Enjoy on lettuce cups or with a side of quinoa or rice. Perfect for summer entertaining as an appetizer too! Enjoy!
Ingredients
Meatballs:
1 pound ground chicken
½ red onion, very finely chopped
¼ red bell pepper, very finely chopped
¼ cup minced cilantro
1 egg
¼ cup dry bread crumbs
1 clove garlic, minced
½ teaspoon dried oregano
¾ teaspoon fine sea salt
Glaze:
1 tablespoon habanero hot sauce
Wraps and sides:
1 head butter lettuce, leaves separated
3 scallions, thinly sliced
Directions
Preheat oven to 450℉. Line a baking sheet with parchment.
In a large bowl, combine chicken, onion, bell pepper, cilantro, egg, bread crumbs, garlic, oregano, and salt. Use your hands to mix together just until combined. Do not overmix.
Measure out meat mixture in level tablespoonfuls, and roll into balls. Place on prepared baking sheet, and bake until internal temperature reaches 165℉ and meatballs are lightly browned, about 10-12 minutes..
While meatballs cook, prepare the glaze. In a medium saucepan over medium-low heat, stir together honey, vinegar, hot sauce, and pepper flakes until mixture is smooth and glossy, about 3 minutes. Remove from heat.
Brush meatballs with glaze and return to oven for 1-2 minutes. To serve, divide meatballs between lettuce leaves and sprinkle with scallions. Serve leftover glaze on the side.