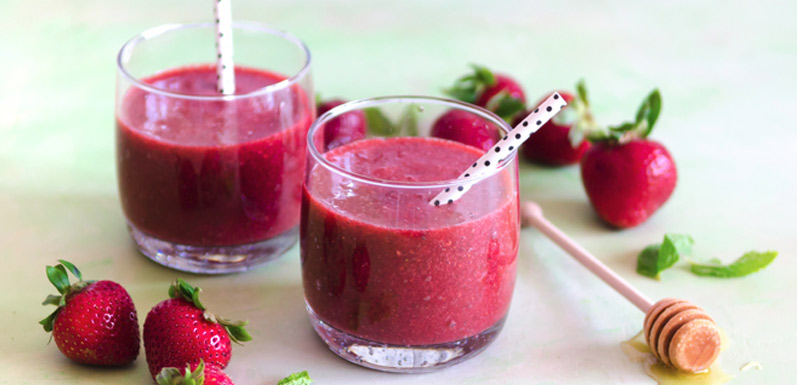 Habanero Strawberry Chia Fresca
With the temperature rising, nothing can satisfy or cool you down like a good drink. We've partnered with Bob's Red Mill on just a recipe – Strawberry Chia Fresca! Enjoy summer's best strawberries with chia seeds, which are known for their omega-3 content, anti-oxidant properties and fiber. You also get a kick with using GloryBee's Habanero Honey. Spicy and sweet, this treat will knock your sandals off!
Time
Prep Time: 5 minutes
Yield: 2 servings
Ingredients
1 cup chopped Strawberries (6 oz.)
1/4 cup GloryBee Habañero Honey
1/2 Tbsp fresh Mint (1-1/2 grams)
1 Tbsp Bob's Red Mill Organic Chia Seeds
Club Soda
Directions
Puree strawberries, honey, and mint in a blender until smooth.  Stir in chia seeds.
Portion puree between two serving glasses.  Drink as-is or top with club soda and ice.
Make it a great summer cocktail by adding 1-1/2 oz tequila or vodka.