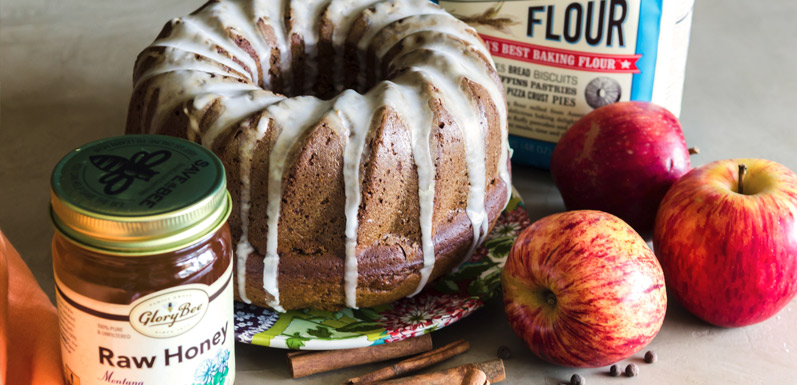 Rosh Hashanah Honey Cake (Lekach)
Many who celebrate Rosh Hashanah enjoy a spiced honey cake – as a reminder for a sweet new year. In the recipe below no sugar is used, so full honey flavor comes through. You can try all types of honey, but we used our top seller, Montana White Clover Blossom Honey.
By using two types of flour (we use Bob's Red Mill Unbleached All Purpose Flour and Bob's Red Mill Light Rye Flour), the cake has a different texture than expected. But don't worry, the sweet and aromatic honey flavor takes the cake to a whole other level.
Have a good and sweet new year! Shanah Tovah Umetukah!
Recipe By Sarah House for Bob's Red Mill Natural Foods
Time
Prep Time: 20 minutes
Bake Time: 1 hour
Rest Time: 1 hour
Yield: one 12-cup Bundt pan
Ingredients
3-1/2 cups Light Rye Flour, or Unbleached White All Purpose Flour
1 tsp Baking Powder
1 tsp Baking Soda
1/2 tsp Salt
1 Tbsp ground Cinnamon
1/2 tsp ground Allspice
1/2 tsp ground Cloves
1 cup Canola Oil, or other neutral oil
4 Eggs
1 cup GloryBee Montana White Clover Blossom Honey
1/2 cup cold Coffee
1 tsp Vanilla Extract
Directions
Preheat oven to 325°F; generously butter and flour a standard Bundt pan, or similar baking mold.
In a medium bowl, combine flour, baking powder, baking soda, salt, and spices; set aside.
In a large bowl, whisk together oil, eggs, honey, coffee, and vanilla extract.  Add dry to wet and mix well, taking care to not overmix while ensuring there are no pockets of dry flour.
Pour batter into prepared baking mold, smoothing top.  Bake until a tester inserted into the center comes out clean, about 1 hour.
Let the cake cool completely, about 1 hour, before unmolding.  If desired, garnish with a simple glaze of 1-1/2 cups powdered sugar mixed with 2 Tbsp water or cold coffee.