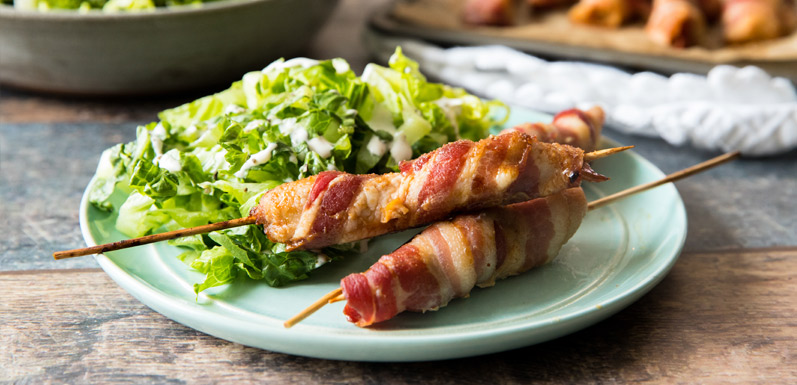 Spicy Bacon Coconut Chicken Skewers
Spicy and sweet, our bacon coconut chicken skewers are the perfect hearty appetizer. Sweet from the coconut sugar, and salty from the bacon, they're full of mouthwatering flavor. If you like your foods spicier, try adding red pepper flakes or brushing our Habanero Honey onto the bacon and grill the skewers. And by simply adding a side salad or extra vegetables, you've got a  meal. Enjoy!
Ingredients
6 organic chicken tenders
½ cup Aunt Patty'sⓇ Coconut Sugar
1 teaspoon fine sea salt
½ teaspoon cayenne pepper
12 strips organic bacon
Directions
1. Soak 12 bamboo skewers in water for 30 minutes.
2. Preheat oven to 375℉.
3. Cut each chicken tender in half lengthwise.
4. In a medium bowl mix together coconut sugar, salt, and cayenne. Toss chicken tenders in coconut sugar mixture. Thread chicken onto skewers and wrap each with a strip of bacon. Place on a lightly oiled baking sheet.
5. Sprinkle any remaining coconut sugar mixture over skewers and bake until cooked through and bacon is browned, 20-25 minutes.