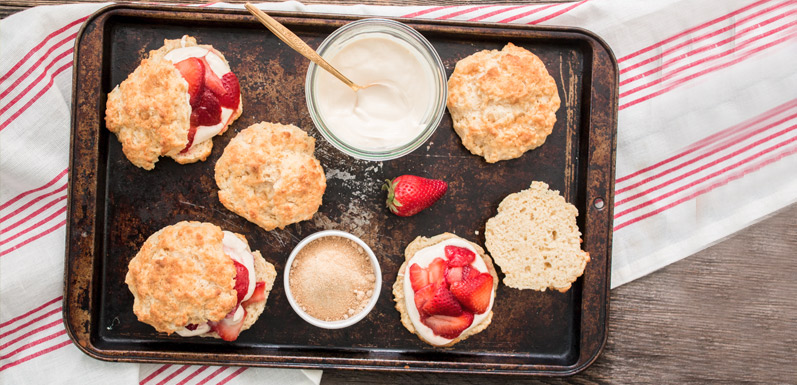 Strawberry Yogurt Shortcakes
Did you know May is National Strawberry Month? It's the perfect time of year to enjoy fresh, local strawberries. Strawberry shortcake is a recipe for spring and summer events. The shortcakes are best fresh from the oven and the recipe overall takes about 30 minutes to make. Enjoy!
Ingredients:
2 cups all-purpose flour
1 tablespoon baking powder
4 tablespoons cold butter, cut into cubes, plus 2 tablespoons melted
1 ¾ cups plain whole milk Greek yogurt, divided
½ cup whole or lowfat milk
1 pound ripe strawberries, thinly sliced
Directions
1. Preheat oven to 450°F. Line a baking sheet with parchment.
2. In a large bowl, whisk together flour, 4 tablespoons  maple sugar, baking powder, and  salt. Add butter and knead into the flour with your hands until butter is in pea-sized pieces. Stir in ¾ cup yogurt and milk until dough just comes together.
3. Spoon biscuit dough onto the baking sheet in 8 mounds, brush with melted butter, and  sprinkle with 1 tablespoon maple sugar. Bake until gol den brown, about 15 minutes.
4. Meanwhile, in a medium bowl combine strawberries and 2 tablespoons maple sugar and allow to sit until berries release some juice.
5. Allow biscuits to cool slightly once baked, then split  in half. Combine remaining 1 cup yogurt and 3 tablespoons maple sugar. Top bottom biscuit halves with yogurt, berries, and the top of the biscuit.