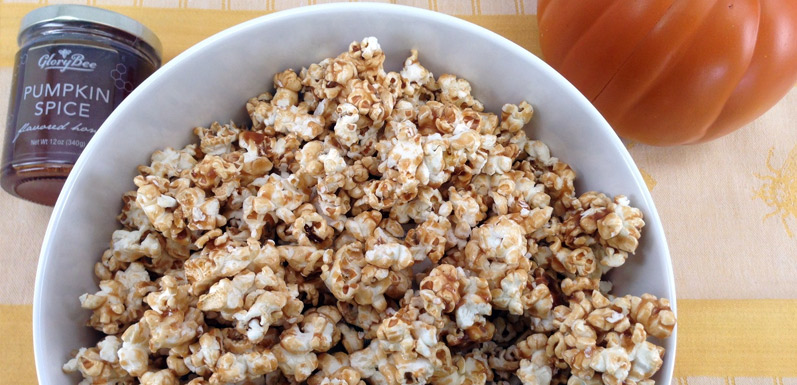 The perfect amount of sweet, crunch and flavors of fall, this spin on an old favorite will keep you coming back for more!  Featuring our Glorybee Pumpkin Spice Honey, it is easy-to-make and perfect for your upcoming Halloween party or holiday gathering.  We recommend to make a double or triple batch because it will go fast!
Ingredients
Directions
In a medium saucepan, heat the Pumpkin Spice Honey, Coconut Oil and Coconut Sugar over medium until boiling. Stir frequently with a rubber spatula. Boil for 1 minute and remove from heat.
Let mixture cool for 15 minutes. Once it cooled, but still warm add vanilla extract. Stir until well blended.
In a large mixing bowl, pour warm caramel mixture over popped corn. With a rubber spatula mix thoroughly until all the popped corn is covered with the warm pumpkin spice caramel.
Pour the caramel corn onto a parchment paper lined large cookie sheet. Heat oven to 225° F and place the cookie sheet in the oven for 10 minutes. After 10 minutes, flip the caramel corn over with a spatula and then heat for another 10 minutes.
Pull the caramel corn out of the oven and cool completely.
Once it is completely cool, break it apart, place in a bowl and enjoy!