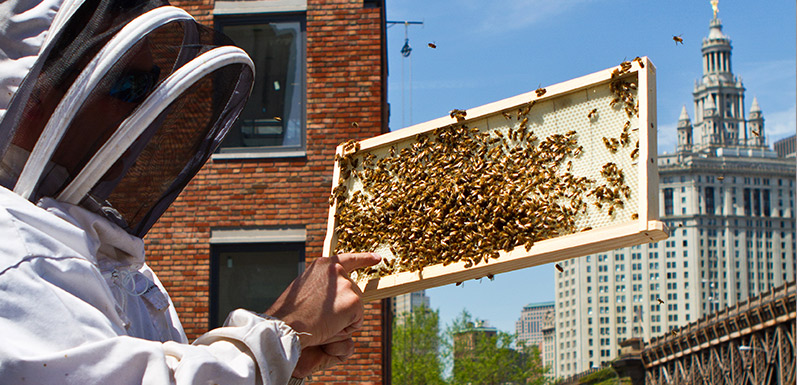 Urban Beekeeping: 5 Steps for Starting Out
Are you a city dweller who dreams of beekeeping? You might have thought it was impossible unless you moved out into the country. Or maybe you've heard of Urban Beekeeping, but you thought it was too dangerous or impractical for you?
Don't be dismayed. More and more cities are realizing the benefit of bees; after all, 90% of wildflowers benefit from cross-pollination from bees, in addition to 30% of crops. New York City, Chicago, and Philadelphia are among the growing list of major cities that allow Urban Beekeeping.
Step 1: The Research
While it may be tempting to run out and buy those bees and beekeeping tools, there is a lot of information you need first.
The most important thing to understand is your city regulations or ordinances on beekeeping. While urban beekeeping is becoming more and more accepted, there are still a number of cities that prohibit it. If you are unsure where to start, check out your country extension office
Step 2: More Research
You've discovered your city allows for urban beekeeping. Congratulations! Now it's time to get an understanding of your new hobby. Borrow a book from your local library, take a class, or better yet, find a beekeeping club. It is vital that you understand how to raise your bees safely for your neighbors, your bees, and yourself.
Step 3: Plan Your Hive
Make sure you have a place to put your hive. Backyards and lower rooftops can work well for beehives. If you are planning on having a rooftop hive, make sure you okay it with your landlord. If you plan on having a hive in your yard, build a fence high enough so that a bee won't accidentally run into your neighbors passing over the top of it.
One thing to note: while bees are typically low maintenance, you will be responsible for providing access to water. A bird bath or rain catcher will likely suffice.
Step 4: Buy Your Beekeeping Tools
There are several options you can take. The first is to purchase a complete beginner's beekeeping kit. This will include all your basic beekeeping equipment including your beekeeper hat, gloves, hive tool, bee hive smoker, bee brush, and feeder. You will also need to choose which of the many commercially available beehives is right for you and your space.
If your city has a community of beekeepers, you may be able to find used beekeeping tools for sale, cheaper than what you might be able to find otherwise. Make sure to only purchase used equipment from trusted sellers.
Step 5: Buy Your Bees
This is the moment you've been waiting for! It's time to buy your bees. The most important thing is to pick a variety of bees that will thrive in your busy environment. You don't want to face the wrath of your neighbors (or law enforcement) because you chose an aggressive variety.
Once you have your hive up and running, there isn't much difference between rural and urban beekeeping. Just remember to harvest your honey responsibly, and take care to minimize swarming, which occurs when an older queen breaks off from an overcrowded hive.
For more information about how to maintain your hive, feel free to look back over our archives! And good luck with your adventure!