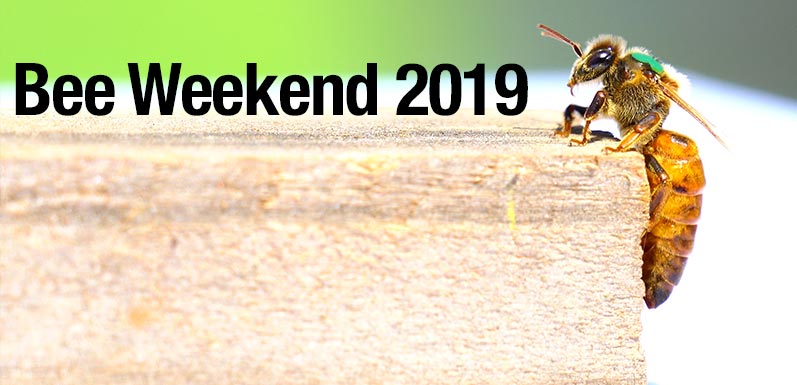 2019 Marks 45th Annual Bee Weekend at GloryBee
GloryBee® is hosting our 45th annual Bee Weekend event on Friday, April 26 - Saturday, April 27. Free and open to the public, Bee Weekend has become a festival in celebration of honey bees and beekeepers, packed with ways to connect to our favorite pollinators. From pre-ordered bee package distribution, to live demonstrations, to honey sampling and other activities, Bee Weekend is not just for beekeepers – bring the whole family!
"Keeping bees requires the right gear, but also requires knowing what is best for your bees and how to help them survive" says Mike France, GloryBee employee and avid beekeeper. "This knowledge is important for the whole community, not just the beekeeper – it takes a village for a hive to thrive."
Bee Weekend will be held in Eugene, Oregon on Friday, April 26 from 9:30 a.m. to 5:30 p.m. and on Saturday, April 27 from 9 a.m. to 4 p.m. GloryBee Founder Dick Turanski, and second-generation President, Alan Turanski, will be demonstrating live bee installation into hives and will be available for any questions you may have about beekeeping and the installation process. The demonstrations are a must-see; for non-beekeepers, they offer a rare chance to see a colony of bees up close. Demonstration times will be on Friday, April 26 at 9:30 a.m., 11:30 a.m., 1:30 p.m. and 3:30 p.m. and again on Saturday, April 27 at 9 a.m., 11 a.m. and 1:30 p.m.  Also, don't miss a brand-new honey tasting event Saturday at noon!
Our Factory Store will be open during this event so you can purchase honey, beekeeping supplies, bee-related gifts, apparel and more. Come see the bees up-close and learn more about these tiny and amazing pollinators!