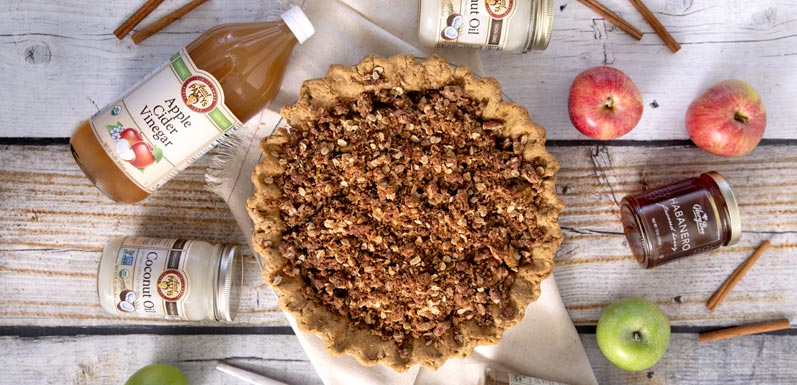 Apple Pie with Peppered Pecan Crust
Happy Pi Day! We are celebrating with a new take on apple pie, featuring our habanero honey for a sweet kick, paired with a peppered pecan crust that is everything you didn't know you needed on apple pie. We'd give it a 3.14/3.14!
Ingredients
Pie Filling: 
6 Granny Smith apples, washed and sliced (do not peel)
½ cup GloryBee Habanero Honey
¼ cup organic Brown Sugar
4 to 5 TBSP organic flour
1 tsp ground cinnamon
¼ tsp ground ginger
2 ½ cups organic pastry flour
¼ cup Peppered pecans, chopped finely.
1 tsp baking powder
1 large organic brown egg
½ cup of cold water
For Peppered Pecan Crumble:
½ cup unsalted butter, softened
1 cup all-purpose flour
¼ cup chopped peppered pecans
Instructions
Begin by preparing the pie crust.

Combine salt, chopped pecans and pastry flour together in large bowl. Cut in cold coconut oil until mixture forms small pea size crumbs.

In another bowl, whisk together egg, vinegar and water. Add baking soda and set aside for 3 minutes to rest.

Combine wet ingredients to dry ingredients in the large bowl. Once all combined, chill crust for 10-15 minutes. Once chilled, roll out crust on floured surface until slightly larger than desired pie pan – about 13". Gently roll pie crust around rolling pin and unroll over pie pan. Gently press pie crust into place, turn edges under and crimp.

Bake unfilled pie crust for 15 minutes at 350 degrees or until golden brown.

While the dough is chilling, make apple pie filling. Wash and slice apples, setting them aside in a large bowl. Toss apples in a 2 tsp of lemon juice to prevent browning.

Mix brown sugar, flour, cinnamon, ginger and nutmeg together in a small bowl. Mix honey with dry ingredients until well blended.

Pour sugar/honey mixture over apples, stirring until all the apples are covered with sauce. Fill the pie shell with apples and top with pie crust, fluting edges and piercing the pie to allow steam to vent. Brush top crust with egg wash and sprinkle with organic cane sugar.

Crumble - In medium bowl, use pastry blender or fingers to mix butter, 1 cup flour and the brown sugar until a crumb forms. Sprinkle evenly over top of pie before baking.

Bake at 425 for 35-45 minutes. Cover edges of pie crust with foil to prevent over browning.