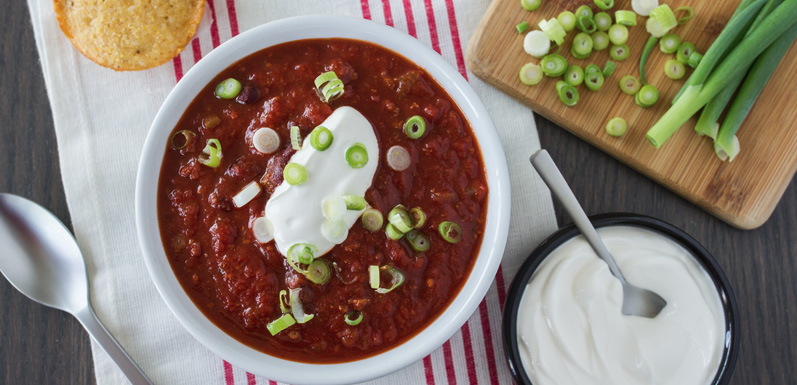 Aunt Patty's Turkey Chili
Is there anything better than a warm bowl of chili on a cold winter day? This chili recipe is one of Aunt Patty's favorites. It uses red palm oil and apple cider vinegar for delectable and bone-warming flavors.
INGREDIENTS
2 Tbsp Aunt Patty's Red Palm Oil (more if needed)
1 lb ground turkey
1 medium onion, chopped
1 medium green bell pepper, diced
2 Tbsp Aunt Patty's Apple Cider Vinegar
2 12 oz. cans tomato paste
1 28 oz. can crushed tomatoes
2 16 oz. cans red kidney bean, drained and rinsed
1 Tbsp minced garlic
2 Tbsp chili powder
½ tsp paprika
½ tsp dried oregano
½ tsp cumin
½ tsp smoked salt
½ tsp black pepper
1/3 Cup maple syrup
DIRECTIONS
1. Melt red palm oil over medium heat. Add meat, onion and bell pepper and cook until meat is browned.
2. Add apple cider vinegar, crushed tomatoes, tomato paste, beans, dry seasonings and maple syrup and blend well.
3. Taste for flavor and if you feel you need more salt or pepper, add to taste.
4. Simmer for 20-30 minutes over medium heat.
5. Serve topped with sour cream, grated cheese and parsley.
Serving Suggestions
· Serve atop a bowl of quinoa to soak up all the flavors
· Serve with a side of corn bread drizzled with GloryBee Habanero Honey