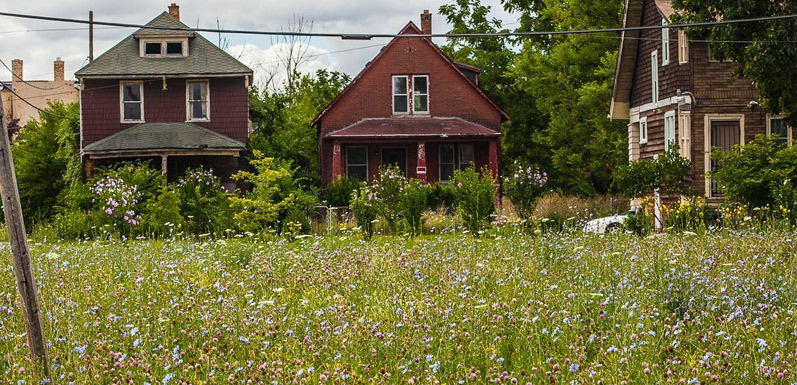 Beekeepers are Transforming Detroit
We were inspired when we read this article about a Detroit couple who transformed their community with beekeeping. Keeping Bees is a great use of vacant space and it has the capability of adding supplemental income. Becoming an urban beekeeper is an easy way to connect communities to nature while strengthening local bee populations.
Black Beekeepers are transforming Detroit's vacant lots into bee farms
A pair of Detroit natives have decided to combat neighborhood blight in a pretty sweet way — by transforming abandoned vacant lots in their city into honeybee farms. 
Detroit Hives, a nonprofit organization founded by Timothy Paule and Nicole Lindsey in 2017, purchases vacant properties and remodels them into fully functioning bee farms. 
"These properties are left abandoned and serve as a dumping ground in most cases," Paule told HuffPost. "The area can be a breeding ground for environmental hazards, which creates a stigma around the city." 
To become certified beekeepers, Paule and Lindsey took two courses at Green Toe Gardens and Keep Growing Detroit. The duo bought their first vacant space on Detroit's East Side for $340 with the help of the Detroit Land Bank Authority, an agency that works to redevelop abandoned properties.
Besides raising honeybees, the nonprofit aims to spread awareness about bees by hosting public tours of the farm ― they encourage community members to schedule an appointment ― and by traveling to schools in the Detroit area to speak with students.
"The neighbors love it. They say they wish we were there 10, 20 years ago," Lindsey said. "That area has always been a place where people dump trash, so when we came there, we gave that area a sense of purpose. The neighbors keep an eye on the area to make sure that people aren't dumping anymore."
To read this Huffington Post article in its entirety, go to "Black Beekeepers are transforming Detroit's vacant lots into bee farms"
Also be sure to follow Detroit Hives on instagram.