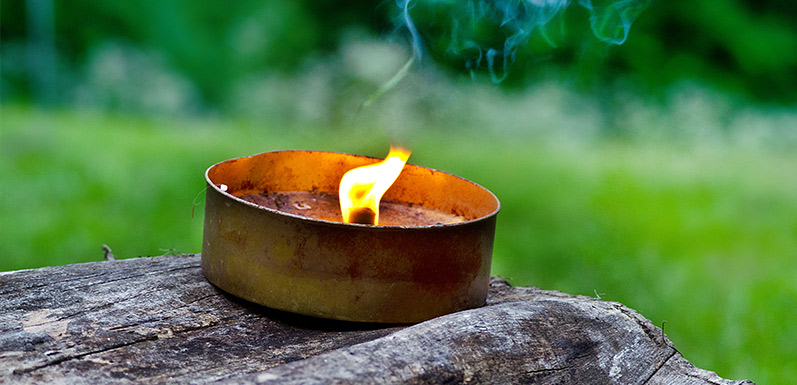 Beeswax Citronella Candle
Summer barbecues are the perfect spot for those pesky mosquitoes to show up. To keep them at bay, try using a citronella candle outside. It will look great in your entertaining space, but also make a comfortable atmosphere for all. You can change the container as well – use canning jars, small galvanized pails, or create the candles into tea lights.
Supplies
Wax melting pot or double boiler
Small candle containers (Votives, canning jars, small galvanized pails, etc).
1 lb of beeswax – pastilles work great
1 cup of coconut oil
Wicks
Citronella essential oil
Instructions
1. Using a double boiler or a melting pot and a double boiler ring, melt wax on low heat.
2. Dip one end of the wick into the melted wax, this will help you thread it through the wick tab. After threading the wick tab, slightly crimp with wick tab to clasp the wick.
3. Use hot wax to attach the wick to the bottom center of your desired container. Attach the top of the uncut wick to a wick bar or pencil to center and make the wick tight in the container.
4. When the wax has reached pouring temperature (130 degrees), remove from heat and add coconut oil. You may need to bring this back up to temperature to blend and melt thoroughly.
5. Remove wax/oil mix from heat and add citronella essential oil. You will need 1fl oz of citronella essential oil per pound of wax.
6. Pour wax into prepped containers. Be sure to keep a small amount of melted wax as a reserve. Due to air pockets around the wick that can cause your candle to snuff out as it begins to cool in the container, it will shrink slightly and you will need to top off the candle with reserved wax.
7. Allow candle to cool – trim wick to ¼ inch and allow candle to cure for 24 hours.