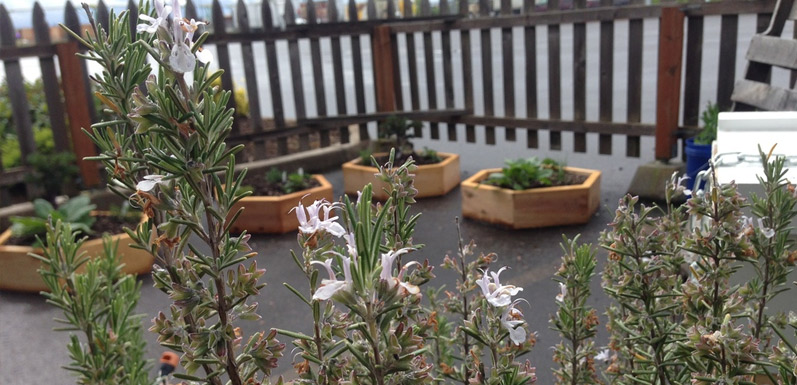 Boxes and Blossoms - Packages of Bees inspire backyard creativity
reBees make more than honey—they help plants develop seeds. Fruits and vegetables need pollination--honey bees are the perfect workers for the job! If you recently picked up your packages of live bees and installed them in hives—you may be wondering the best place to put them.
Bees need four basic things:
A sunny, dry hive
Flowers
Protection from toxics
Protection from parasites
The GloryBee Factory Store has a set up a Bee Garden to give local beekeepers innovative ideas on setting up some bee friendly habitats. We planted strawberries, rosemary, legumes as well as some sunflowers and clover- which are all pollinator attractors.
We made sure all the planter beds:
Have organic soil
Are free from pesticides
Include pollinator friendly plants
HIVE NOTES: Our Bee Garden hive is facing Southeast-- so its back is to the wind and its entrance faces the early sun. We also built a fence around the Bee Garden-- so young kids or unaware adults won't wander in front of the hive and startle the bees.
DON'T THROW AWAY THAT BEE BOX!
If your bees came in a caged box, there are many creative ways you can re-use the box after your bees are installed.  Here are two Upcycled Bee Box Projects from two super-creative GloryBee Employees.
Marcia's Succulent Bee Box

Upcycling and succulents are hot topics and these beauties are everywhere. You can see they're especially dramatic in a miniature scape. Marcia's inspiration for upcycling a bee box was nature and form. She wanted to salvage a bee box and incorporate it with the shape, color and form of a succulent.
Marcia believes that upcycling encourages us to shift our thinking from consuming and disposing to wondering what new life lies beneath old objects.  Marcia's project took about 1 hour including purchasing the sphagnum moss, soil for the succulent and the succulents themselves.
Julia's Bright Idea Bee Box

Vintage floating shelves and Edison light bulbs are not something you see everyday. Julia was inspired by these classics and created an artistic floating shelf that really lights up a room- with a real working retro lightbulb. She ordered the bulb and plug online and it took her about an hour to build.
Recycling and reusing is important to Julia because she believes our culture is one of consumption. People buy things, use them, then throw them away. Valuable resources are wasted on waste. She loves to tell people that everyone wins when we recycle/upcycle/reuse!