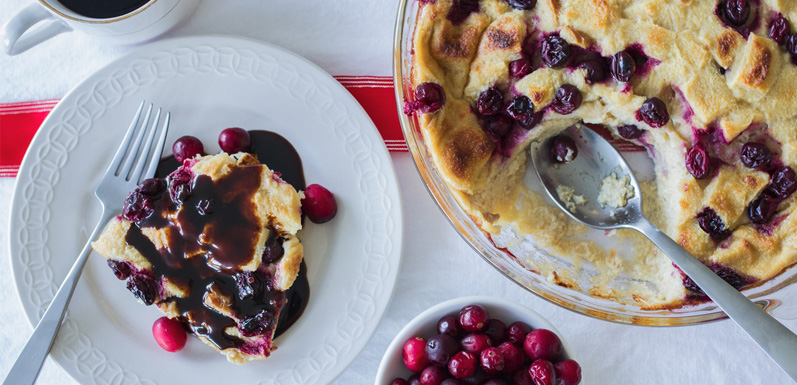 Berry Bread Pudding
Not much is more comforting than bread pudding. It's super simple while also being full flavored, it's the perfect way to indulge on date night, after a long week, or just celebrating the day.
One of our timeless classic recipes, you can make it your own by switching up the bread to a brioche or French bread. Substitute strawberries or raspberries and add a scoop of vanilla ice cream on top. We hope you enjoy the sweet
Ingredients
2 ½ Cups whole milk

4 Eggs
½ Cup Aunt Patty's® Maple Sugar
2 tsp vanilla
6 Cups soft bread cubes (from about 8 slices bread)
1 Cup frozen berries.
¾ Cup Aunt Patty's Dark Agave Syrup
¼ Cup heavy cream
½ tsp fine sea salt
4 Tbsp butter (cubed)
Directions
Preheat oven to 350℉. Lightly oil a 9" baking dish.
In a large bowl, whisk together milk, eggs, sugar, and vanilla. Add bread and berries (we used cranberries and blueberries) and stir. Allow to sit 15 minutes so bread can absorb the liquid. Pour into baking dish and bake until set and browned on top, about 45-50 minutes.
To a medium saucepan add agave syrup, cream, and salt. Bring to a boil and cook, stirring, for 5 minutes or until thickened. Remove from heat and whisk in butter one cube at a time. Allow to cool slightly. Serve bread pudding with caramel sauce drizzled on top.