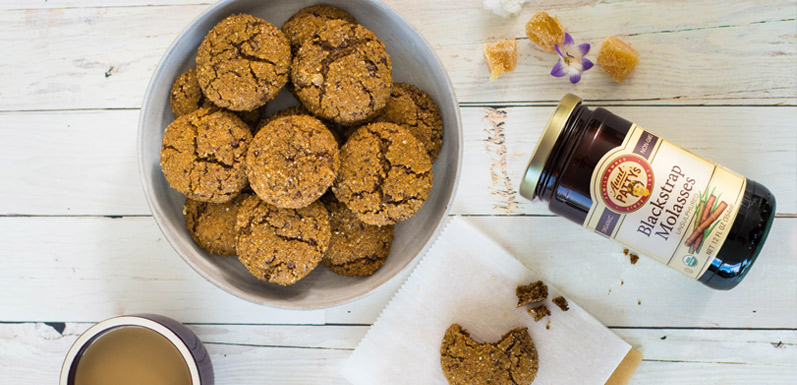 Chewy Ginger Molasses Cookies
We love a good cookie! We've updated a classic with our Chewy Ginger Molasses cookie. By using spelt flour, the cookie takes on a nutty, complex flavor that's sweeter and lighter than that of whole wheat flour cookie. Make it your own by adding more candied ginger and leaving out the chocolate. This will be a spicy cookie your friends and family will be reaching out for more! Enjoy!
Ingredients
2 cups spelt flour (we like
Bob's Red Mill Spelt Flour
)
1 tablespoon ground ginger
1 teaspoon baking soda
½ teaspoon salt
1 stick unsalted butter, melted
½ cup sugar
1" piece fresh ginger, peeled and grated
1 egg
½ cup candied ginger, finely chopped
4 ounces bittersweet chocolate, finely chopped
½ cup turbinado (raw) sugar
Directions
1. In a large bowl, whisk together flour, ground ginger, baking soda, and salt. In a medium bowl, whisk together butter, sugar, molasses, fresh ginger, and egg. Stir wet ingredients into dry ingredients until almost combined. Stir in candied ginger and chocolate. Cover and refrigerate dough for 30 minutes.
2. Preheat oven to 350℉. Line 2 large baking sheets with parchment paper.
3. With a tablespoon measure, scoop dough, roll into balls, and roll in turbinado sugar before placing on baking sheets, leaving 1" between cookies.
4. Bake cookies, rotating the pans halfway through baking, until browned and cracked on top, 12-16 minutes. Transfer cookies to a rack to cool completely.