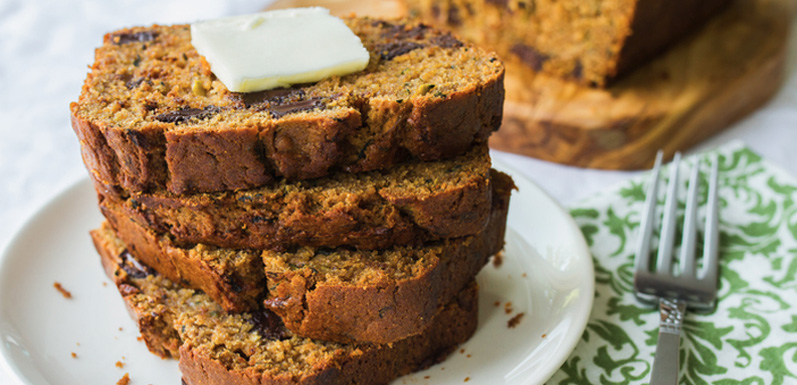 Chocolate Zucchini Bread
Happy International Chocolate Day! To celebrate this day, we have added antioxidant-packed dark chocolate chunks to a naturally sweetened zucchini bread that is baked to perfection. This deliciously moist zucchini bread will satisfy your chocolate craving while getting your veggies too!
Yield: 10 servings
INGREDIENTS
2 Cups shredded zucchini, about 2 small
1 Cup all-purpose flour
1 Cup whole wheat flour
2 tsp baking powder
½ tsp fine sea salt
¾ Cup Aunt Patty's Organic Honey Crystals
½ Cup Aunt Patty's Organic Virgin Coconut Oil, melted
½ Cup 2% milk
2 Eggs
¼ Cup Aunt Patty's Organic Maguey Syrup
1 tsp Aunt Patty's Pure Natural Vanilla Extract
½ Cup dark chocolate chunks
DIRECTIONS
Preheat oven to 350˚F. Lightly oil a 9x5 loaf pan and line with parchment.
Place shredded zucchini in a clean kitchen towel and squeeze out as much liquid as possible.
In a large mixing bowl, whisk together flours, baking powder and salt. In another bowl, whisk together honey crystals, coconut oil, eggs, maguey syrup, and vanilla. Stir zucchini into maguey mixture. Fold wet ingredients into dry until just combined. Fold in chocolate.
Pour mixture into loaf pan and bake until a toothpick inserted in the center comes out clean, about 65-70 minutes. Let cool 10 minutes in the pan, then use the flaps of parchment to pull out and transfer to a cooling rack. Serve warm and store leftovers in an airtight container.