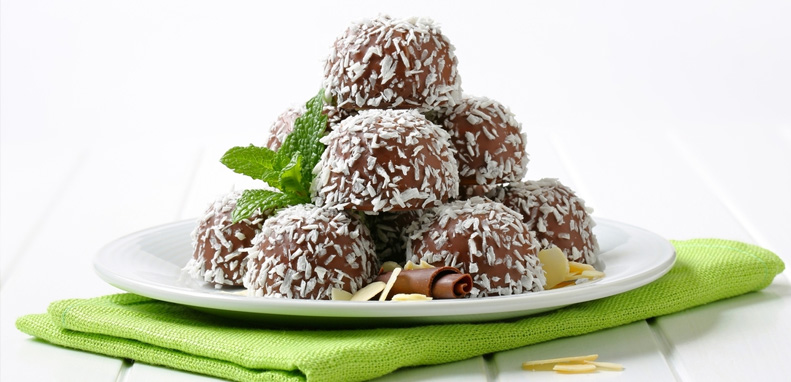 Dark Chocolate Coconut Bites
Nobody loves chocolate as much as GloryBee. We all enjoy a sweet treat for Valentine's Day too. Our recipe for Dark Chocolate Coconut bites combines shredded coconut, honey, coconut oil and chocolate. This is also a perfect recipe to make with your children – no cooking needed!
Ingredients
2 cups dessicated coconut
1 tsp vanilla
4 ounces dark chocolate for melting
Instructions
Pulse the desiccated coconut in a food processor until the texture changes and becomes like a thick flour. Combine coconut, honey, coconut oil and vanilla in a large bowl. Stir until well combined (like a paste).
Using a cookie scoop, portion mixture into about 18 small balls onto a parchment paper lined cookie sheet. Refrigerate until firm – about 30 min to an hour.
Place chocolate in microwave safe bowl. Microwave for about 30 seconds, removing to stir. Repeat until chocolate is smooth (about 2 minutes).
Using forks, dip each coconut ball in the melted chocolate until completely covered. Gently remove from fork, placing on parchment lined cookie sheet. Top each bite with a sprinkle of shredded coconut or even Honey Crystals.
Chill until the chocolate has hardened. Store in air tight container in refrigerator for 7-10 days.