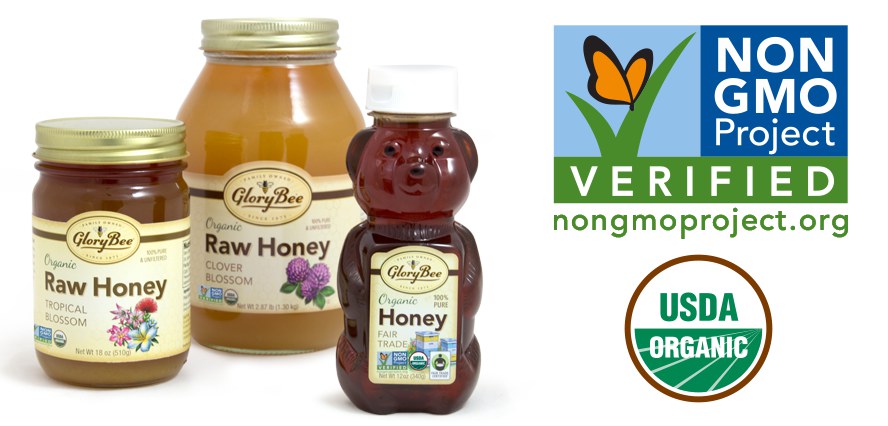 Honey Processor Receives Non-GMO Verification
Eugene, Ore. - GloryBee® is proud to announce the Non-GMO Project Verification on all its organic honeys. As the first major honey processor to earn this verification, GloryBee is able to offer all its organic honeys in large volume. As a company rooted in healthy living, GloryBee stands behind the transparency of its ingredients, and is happy to pass this verification onto its customers.
"We have been testing our organic honey for GMOs for more than five years, but being Non-GMO Project Verified truly separates GloryBee organic honey from the others. This verification allows us to meet our customers' needs to add this verification to their own products, and develop even more products using our organic honey. We truly believe honey is nature's best sweetener," says GloryBee President Alan Turanski.
Honey is notoriously difficult to verify Non-GMO as it is considered a "high risk" ingredient. In order to ensure honey bees have not been exposed to GMOs an additional four mile boundary must be established outside the area of honey collection. Honey is likely to contain GMOs when outlying crops such as sugar beets, corn or soy have pollen collected and consumed by honey bees.
The newly Non-GMO Project Verified honeys, available in 12 ounce bears up to 3,000 pound totes, include:
Organic Clover Blossom Honey
Organic Fair Trade Honey
Organic Tropical Blossom Honey
Raw Organic Clover Blossom Honey
Organic Raw Fair Trade Honey
Raw Organic Tropical Blossom Honey
GloryBee ensures all its honey products are 100% pure. While being minimally processed and packed in its Eugene, Oregon facility, this honey retains its unique flavor, quality and nutritional profile. GloryBee carries more than fifteen regional, organic and blended honey varieties.
"We pride ourselves on having some of the highest quality standards in the industry, from testing to how we handle and process our honey," says Alan.
Most of the honey varieties come from the Pacific Northwest and are produced by local beekeepers. The imported organic honey is purchased from small cooperatives of beekeepers who are very concerned about the treatment of their bees and the quality of the honey.