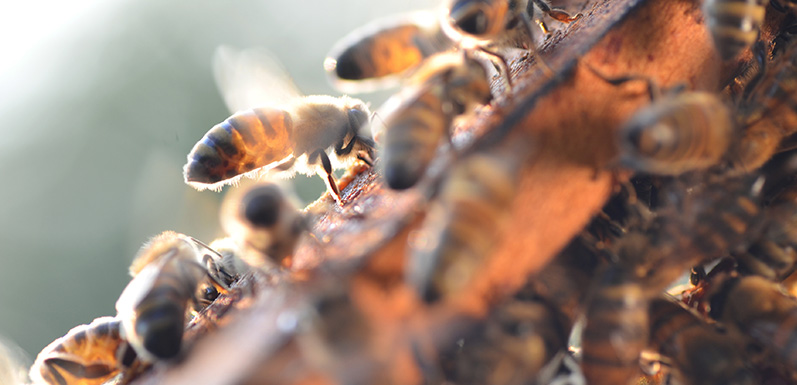 LESSON 5: Race of Bees
This is a very quick condensed description of some of the more popular honey bees for bee keeping. For more information we suggest reading one of our books.
Brown Bee
German 1st, mean, susceptible to AFB (American Foul Brood Disease), EFB (European Foul Brood Disease)
Italian Bees

Brought into the US soon after 1859, originally from Italy. They are yellow bee races and vary in color from dark yellow to golden yellow and have three to five black bands.
BEHAVIOR AND CHARACTERISTICS:
Generally not too gentle but can be.
They have a very strong disposition to breeding, colonies start breeding early in spring and maintain a large brood area regardless of flows in late fall.
Italians have an average amount of swarming.
Italians winter in strong colonies and have a high consumption of food.
They show a tendency to rob, which undoubtedly is a factor in the spread of bee diseases.
Golden queen is easily located.
Carniolans
Originally part of the Austrian Alps and North Balkan Yugoslavia. Dark colored, sometimes leather bands. Depends on strain of Carniolan, as hybrid bee today.
BEHAVIOR AND CHARACTERISTICS:
Quietest and one of the most gentle races.
Their rhythms of brood production is very steep. They overwinter with small colonies and with small food consumption. Brood rearing starts with first income of pollen and fast development occurs thereafter.
They maintain a large brood nest only if pollen remains adequate.
In fall, the population of the colony declines rapidly.
Strong disposition to swarm but this disposition can be influenced by selection.
No inclination to robbing.
Use of Propolis is small.
Very difficult to locate queen
Work in cooler temperatures
Caucasians
Originally from the high valleys of the central Caucasus mountain region. They have a shape and size similar to Carniolans. It is difficult to find a pure gray breed. Most strains we have today have been imported to us from Russia during the 40's.
BEHAVIOR AND CHARACTERISTICS:
They are very gentle, and calm on the combs.
They are ardent brood producers and raise strong colonies
Their disposition to swarm is weak.
They are great users of propolis.
No inclination to robbing.
Use of Propolis is small.
Very difficult to locate queen
Work in cooler temperatures