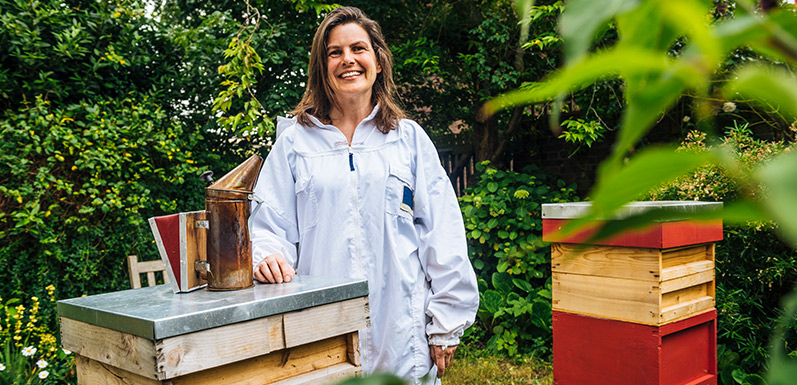 In honor of Women's History month, we are celebrating all the female beekeepers out there doing their part to save the bee! We're feeling inspired by these stories of noteworthy ladies and their hives.
I bet you didn't know there was a queen in the White House! In 2009, First Lady Michelle Obama installed one in the kitchen gardens. Last year, Second Lady Karen Pence added a second hive to the Vice President's residence.
For her wedding gift in 2009, Scarlett Johansson received a bee hive from none other than Samuel L Jackson. He told the Independent, "Scarlett was always talking about how the bees were dying and the planet was going to die," so he gifted her everything she needed to become a beekeeper herself.
The heroine from the Sound of Music, Maria Von Trapp, was not only a real person, but also a female beekeeper! After moving to America and establishing a farm in Vermont, Maria took up beekeeping. The Trapp Family Lodge is still operating today and open to visitors.
Dr. Eva Crane first became interested in bees when she was gifted with a hive in 1942 to help supplement the wartime sugar rations. Though she was trained as a mathematician, she studied bees for the majority of her life, and "wrote some of the most important books on bees and apiculture" according to the New York Times.
Sylvia Plath's father was a beekeeper, and she carried on the family tradition later in her life. Plath was enamored with her hive and wrote five poems chronicling her experience becoming a beekeeper. Her poems remind us of our first experiences around bees, and this time of year this line rings particularly true-
"The bees are flying.  They taste the spring."
- Wintering, Sylvia Plath
To all of the wonderful women beekeepers out there- thank you! We appreciate your investment in our pollinators, and would love to hear your stories.
Read More