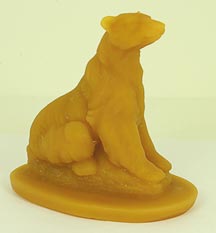 Molding Figures with Latex Molds
These easy-to-use latex molds are a fun and economical way to create detailed soaps and beeswax figurines.
Trace open end of mold on piece of thick cardboard.
Cut shape 1/8" inside line creating a smaller hole than mold rim. Insert mold into cutout.
Lip of mold should be supported by cardboard cutout.
Place in container deeper than mold but not wider than cardboard.
Fill mold half full of soap or wax. Knead gently to loosen air bubbles.
Fill the rest of mold with soap or wax. Tap mold to loosen remaining air bubbles.
Let cool until completely hard.
To remove casting, lightly coat outside of mold with liquid soap.
Peel mold from cast by rolling mold down casting.