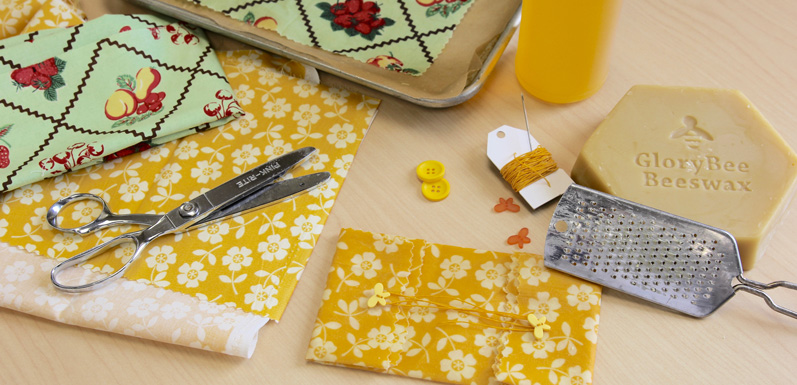 Reusable Cloth & Beeswax Food Wrap
Beeswax and cloth food storage alternative wrap is a reusable alternative to plastic wrap and resealable plastic bags. This sticky fabric wrap hugs bowls with just the right amount of cling using the warmth of your hands. Also perfect for wrapping snacks, fruit, veggies, cheese, and bread! This wrap is reusable and can last up to a year. After that all you'll need to do is re-wax them. To keep your beeswax sanitary, wash in cool water with mild soap. Hot water will melt the beeswax. We do not recommend using this craft with meat.
Wrap your sandwich for lunch on the go and use the beeswax cloth as a place mat. Build your sandwich, place in the center of the wrap and fold in corners and wrap with string or make your own reusable snack bag shown below:
EQUIPMENT
pinking shears will prevent fraying
silicone spatula
fine cheese grater
large baking sheet
parchment paper
dropper
thread, needle, string and buttons (optional)
ruler or tape measure (optional)
oven
old newspaper
INGREDIENTS
2 ounces of Organic Beeswax
powdered pine rosin
16 oz Container GloryBee Jojoba Oil
100% cotton fabric. Needs to be very thin, like a sheet.

8×8 Sheet
2 teaspoons grated beeswax
2 teaspoons powdered pine rosin
1/2 teaspoon GloryBee Jojoba Oil
11×11 Sheet
1 tablespoon plus 1 teaspoon grated beeswax
1 tablespoon plus 1 teaspoon powdered pine rosin
1 teaspoon GloryBee Jojoba Oil
14×14 Sheet
1 tablespoon plus 2.5 teaspoons grated beeswax
1 tablespoon plus 2.5 teaspoons powdered pine rosin
2.5 teaspoons GloryBee Jojoba Oil
DIRECTIONS:
Preheat your oven to 225° F
Cut your fabric into the size(s) you prefer.
Lay parchment paper over the baking sheet and place your fabric on top. Sprinkle your beeswax and resin evenly over the fabric Drop jojoba oil with a dropper evenly over the cloth as well. It will spread out under the heat of the oven.
Place baking sheet in the oven and bake until the mixture is fully melted. This should take between 5-10 minutes.
Using the silicon spatula, spread the mixture evenly over the fabric. Pull pan with the sheet out of the oven, brush, and then pop it back in to let the mixture even out for another minute or so.
When the mixture is evenly melted, remove the baking sheet from the oven and lift the sheet with tongs. I wave mine in the air to allow it to cool enough to touch (it doesn't take long it all) then lay on newspaper to cool.
How To Make Reusable Snack Bags
Start with a 14×14 inch piece of reusable food wrap
Fold it into thirds
Fold the top and bottom to create flaps
Unfold the fabric and sew on buttons as shown below
Re-fold into thirds, then fold over the flaps and attach a string to one of the buttons
To close the snack bag, just wrap the string around both buttons in a figure eight pattern.
If you prefer not to make your own, we also sell Bee's Wrap online and in our Factory Store