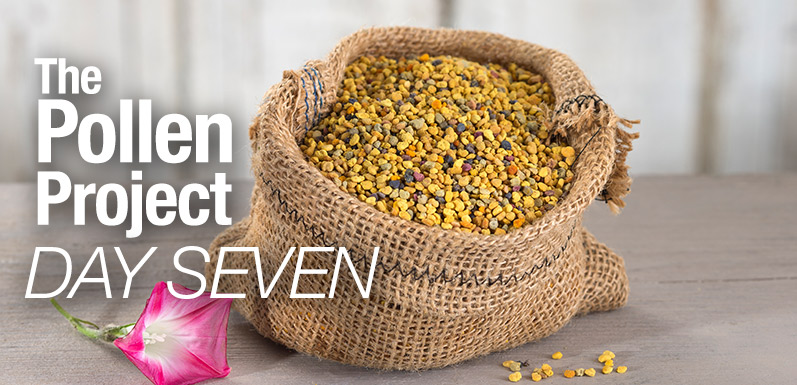 The Pollen Project Day 7: Pollen is Blessed
Found myself at the Eugene airport bright and early at 4:30AM, checked in and got in line at the TSA checkpoint. My bag was pulled aside for 'additional screening' and sure enough, in the middle of a pat-down I was asked about the hive-shaped clear plastic jar full of mysterious colorful granules in my carry-on. The TSA agents were kind enough to listen to my 30-second spiel about pollen and its properties before getting confused again when I told them it was all I had eaten in for the past week. I probably didn't make any believers that morning, but my pollen and I made it through security and onto the gate for the flight to Myrtle Beach by way of Salt Lake City.
Speaking of believers, I had the good fortune of running into a Catholic priest on the way to my gate, who was amenable to blessing my pollen at a ridiculous hour of the morning -- thank you Father! Given the way I had reacted to the smell the night before I was in need of every bit of help I could get to make it through a long day of traveling and not eating, culminating in somehow soaking and mashing up pollen in a hotel room without a blender. A peripheral benefit, I'm hoping, is that blessed pollen grants me at least a +3 bonus against Zom-bees. The flights were uneventful and I felt fairly good about the fasting, though there was about a 4-hour car ride ahead of me from Raleigh to Myrtle Beach. I piled in with my colleagues Mike and Julia (who's been editing the more tedious bits out of these blog posts, thanks Julia!) and we headed South. Once past Raleigh, they started looking for somewhere to eat dinner and I started thinking about the jar of now at least somewhat-sanctified pollen in my bag. They stopped at a pizza restaurant and that's where I broke. Sitting there, staring at pizza...I knew I had reached my limit. I got the jar of pollen, ate a handful dead raw, and after a bunch of chewing called it breakfast. Ate another handful, called it lunch, and a third handful I called dinner. Having eaten pollen for breakfast, lunch, and dinner I grabbed a slice of pizza, sprinkled more pollen on, and ate real food for dessert. It was heavenly.