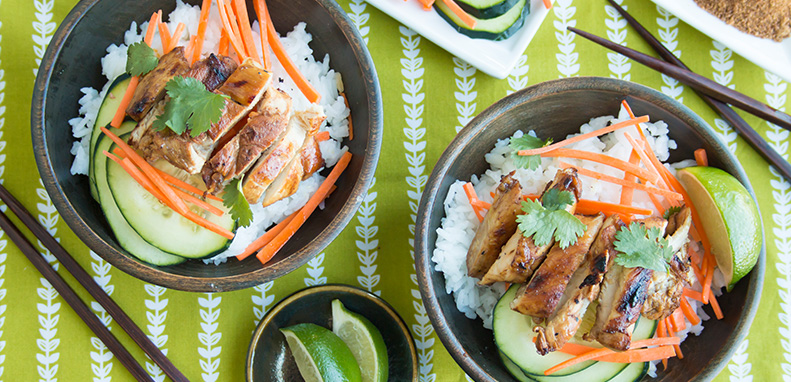 Vietnamese Chicken Bowls
Start your weekly meals out right with our Vietnamese Chicken. After marinating the chicken, total prep time is less than 30 minutes. Perfect for a busy weeknight, make it your own by serving the chicken over white rice, brown rice, or quinoa. Enjoy!
Ingredients
¼ Cup fresh lime juice
3 Tbsp Aunt Patty's® Coconut Sugar
2 Tbsp olive oil
2 cloves garlic (minced)
2 Thai chiles (thinly sliced)
2 tsp Aunt Patty's® Tamarind Paste
1 tsp fine sea salt
4 Boneless skinless chicken thighs, about 1 pound
Directions
In a medium bowl, whisk together lime juice, sugar, oil, garlic, chiles, tamarind, and salt. Add chicken and turn to evenly coat. Marinate in the fridge at least 1 hour or overnight.
Heat a lightly oiled cast iron grill pan over medium heat. Remove chicken from marinade, allowing excess to drip off, and place in hot pan. Cook 7-10 minutes or until well browned, then flip and cook until chicken registers 165˚F on an instant-read thermometer, about 5-6 minutes more.